The Maciel Tinsmith Shop, a Know-How of 7 Generations is about one of the oldest shops/workshops of Lisbon.
Here the traditional Portuguese artisanal craft, as well as prestige and the love for art are kept alive.
Get to know its story and how it survived the troubles of a craft in extinction.
If you recall the Maciel Tinsmith Shop, former Casa Maciel, we'll refresh your memory and tell you what's new. If you've never heard of it, then you'll want to know everything!
Get to know Lisbon's historic neighbourhoods in a guided tour and discover unmissable places of this magnificent city.
200 Years of History of the Maciel Tinsmith Shop
The Maciel Tinsmith Shop has more than 200 years of history. It always refers to 1810, its registration date, but in truth they started operating in 1798.
It was a period of reconstruction and development after the earthquake of 1755 when the professions of coppersmith, boilermaker and tinsmith were crucial to the manufacture of all types of artefacts used by every social layer of the population.
From simpler day-to-day objects, such as plates or pots, to sophisticated lamps for carriages or palaces, the Maciel Tinsmith Shop produced a bit of everything.
It was a supplier of the Royal House and today we can still observe their lamps in royal palaces, such as Queluz National Palace. Original designs were created for palaces of noble families like the Palmela family or for cathedrals from all over the country, for instance, the Lisbon Cathedral and the Évora Cathedral.
Curiously, many of the mite boxes of churches and feeders of the animals of the Lisbon Zoo were produced and gifted by the Maciel Tinsmith Shop.
The first models of street lamps were particularly important to the city of Lisbon and were ordered by the Intendant General of the police Pina Manique during the reign of Queen Maria I.
There are four lamp models that are characteristic of the city of Lisbon: Pina Manique lamps, Misericórdia lamps, Street lamps and Severa lamps. Over time they've been adapted to the new sources of energy and today they're still present in emblematic places, such as the archways of Comércio Square.
Tinsmithing, an Art at Risk
That was until the middle of the 20th century when the introduction of plastic caused a true industrial revolution and almost caused the disappearance of these crafts.
Having gained experience from other crisis periods, the Maciel Tinsmith Shop knew how to face the new times and thus focused on what differentiated it from others: the manufacture of lanterns, lamps and wall lamps.
In the last decades of the 20th century the partnerships with architects and decorators that designed new models of these objects that were really in vogue at the time were crucial.
Today the Maciel Tinsmith Shop owns countless sheet metal molds of other models that they're able to accurately restore and reproduce objects from 200 years ago.
These magnificent and completely handmade pieces result from the know-how that was built over centuries. They're made to last, with care, perfection and love for the art.
The Pressure that Forced Change
For decades the Maciel Tinsmith Shop charmed those who passed by Rua da Misericórdia with their show windows replete with lamps, lanterns, cake pans and biscuit cutters with unusual shapes.
This magnificent historic shop was suddenly a victim of real estate pressure. From one day to the other, a business based on a handicraft that already faced serious troubles to stay afloat in a more and more consumerist society, was left without a roof.
It was the year of 2015 and Margarida Pragana Gamito, the first woman of the family taking care of a traditionally male-led business, was confronted with a dilemma: let her precious heritage of 7 generations disappear or fight for the preservation of a patrimony and traditional art that is so close to her heart.
Faced with difficulties that then seemed insurmountable, the heart spoke louder and fighting for survival was imperative.
She found the necessary support in the City Council of Lisbon that was sensitive to the huge loss it would be for the city and for the history of the traditional Portuguese crafts if the Maciel Tinsmith Shop were to disappear.
Since 2017 that the Maciel Tinsmith Shop has a permanent workshop in the restored Mercado Ofícios do Bairro Alto (MOBA) and a shop in Rua da Boavista no.6.
The New Era of the Maciel Tinsmith Shop
Times have changed. The workshop where before the only people who were allowed to enter were the craftsmen with their exclusive models and professional secrets, is now accessible to everyone.
In addition to the friendly and entrepreneurial couple Margarida and Rui Gamito, you'll find Master Rufino. A craftsperson well into his 80s that continues to work daily with the Maciel Tinsmith Shop by building pieces from scratch, restoring others, giving advice and passing on his knowledge that he has acquired with passion throughout his life.
Their beautiful lanterns aren't for every budget, and in truth they never were, but they surely dazzle everyone.
Today, their doors are more than ever, generously open to everyone who wants to visit them. Along with the Ricardo Espírito Santo e Silva Foundation, they are the last tinsmith shops of Lisbon.
The Maciel Tinsmith Shop is part of the education of the students at the Fine Arts, as well as at the Architecture Faculty.
But they also have open workshops for everyone where you can learn a few techniques using old machines, which are over 100 years old. These workshops are, as always, in the heart of Bairro Alto.
Only the price of the material to be used (about 10 euros) is charged, and at the end you take home a piece made by you.
Dare to try and who knows, you might have a talent you didn't know of! 😉
Curious fact:

In the valuable order books that the Maciel Tinsmith Shop keeps there are references to countless clients that ordered a wide variety of artifacts. These notebooks are true historic documents with precious information and studies about habits, economics, sociology…
In a book with entries from between 1919 and 1924 we can find a curious order from 1922 from the historic and survivor Pastelaria Benard.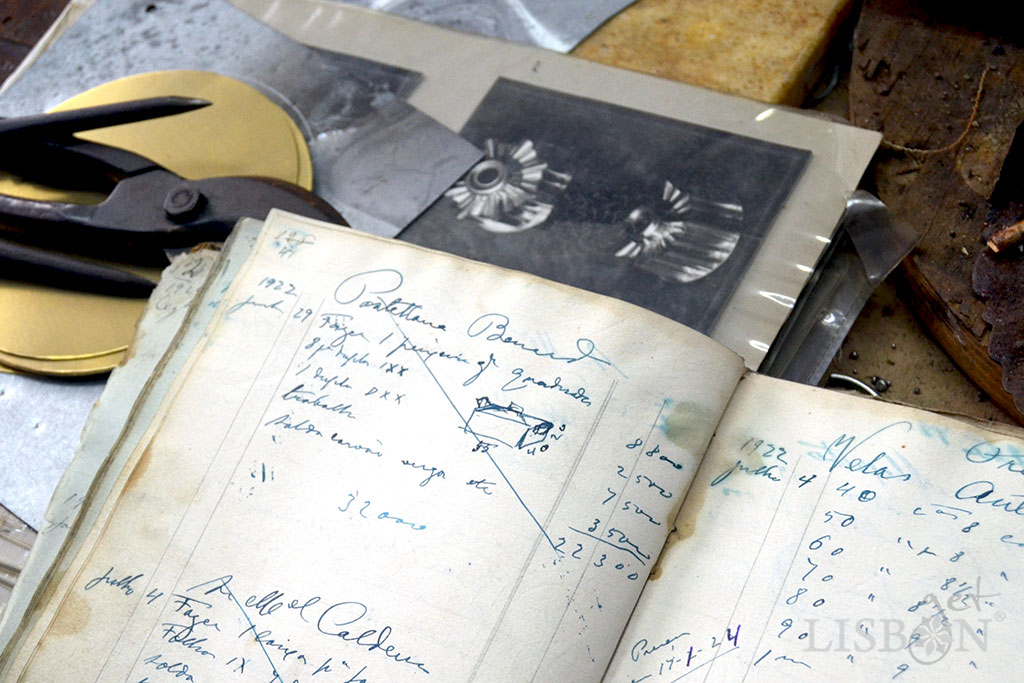 The project getLISBON has been very rewarding and we want to continue revealing the singularities of fascinating Lisbon.
Help us keep this project alive!

By using these links to make your reservations you'll be supporting us. With no extra costs!

• Look up the best hotels on Booking.com and get 15% or more off!
• Looking for a different experience? We can create a customised itinerary based on your interests. Contact us!
• Or if you prefer tours and other activities in various destinations, take a look at GetYourGuide.
• Save time and money with a flexible Lisbon Card!