This time we're visiting Cacilhas. Today's programme includes the Tagus river, breathtaking views of the city of Lisbon, culture and gastronomy.

When it's warmer, going by the river becomes more appealing. In Lisbon and its surroundings there are countless maritime walks, where we can enjoy beautiful landscapes and where the coolness of the water balances the heat of Summer.

Let's head to the south bank by hopping on a boat in Cais do Sodré Ferry Terminal with destination to Cacilhas. Crossing the river takes no time so don't get distracted, otherwise you'll have reached Cacilhas and missed the chance of being blown away by the magnificent views of both banks, of the 25 de Abril Bridge and of the Sea of Straw. It's from the middle of the river that we can best get a grasp of the concept of the city of the Seven Hills.

If you're lucky, you might even spot dolphins, who used to be common and that disappeared altogether later on. However, today they can be sighted from time to time.

The south bank has many attractions including pleasant places that combine nature with culture, such as the Solar dos Zagallos in Sobreda and the Casa da Cerca in Almada. These are places worth visiting in one-day trips.

But today we're sticking to visiting Cacilhas and finding out a few of its stories.
Cacilhas: Land of Workers, Donkey Rides and Gastronomy
Land of Workers
Since long ago that Cacilhas and Almada attracted people who settled here to work. First, in gold mining in the Tagus river, and then working in the various industries that were established along the Cais do Ginjal, in lands that were gradually "taken away" from the river.

If we go back to the 19th century and the first half of the 20th century we can perceive two distinct occupations. In the interior, there was a rural atmosphere of summer noble properties, as well as vegetable gardens and farms. In contrast, by the river we'd find the intense industrial and commercial bustle that was prospering at the time. For instance, the industries of cork, salted and canned fish, shipbuilding and repair, commercial warehouses… as well as the manufacture of fishing nets, tinning, cooperage, among others.

People used to cross the river in different types of traditional boats of the Tagus River, adapted to the transportation of people and goods. These were then substituted by steamboats and later on by the current embarcations, usually called cacilheiros that transport thousands of people everyday.

Both banks have always been deeply connected due to the economic activities that took place there, but also due to its entertainment aspect.

Thus, noblemen and kings from different period of history went to the south bank to hunt, to breathe fresh air, to participate in festivities or even to spend holidays. These were the cases of King Pedro I, famous king of the 1st dynasty, of king consort Fernando of Saxe Coburgo-Gotha and of King Pedro V that recovered the pleasant Quinta do Alfeite, but that didn't get to enjoy it due to his premature death, having left it for King Carlos I.
Donkey Rides
Since remote times that Cacilhas was known as the land of donkeys. The reason behind it wasn't mischievous in any way, but rather because there really were many donkeys who were a true tourist attraction.

On the weekends, the wealthier people of Lisbon would spend their day visiting Cacilhas. There, when they disembarked, they would go on donkey rides that, depending on their wealth, would either be shorter and in the picturesque locality; or longer, by venturing towards Alfeite. These longer rides would many times mean having long cheerful meals or even picnics.

These circuits that attracted people from afar were called burricadas. They are eternalised in literary descriptions and in yellow photographs that reveal ecstatic people, sometimes eminent personalities, entertained riding the donkeys.
Gastronomy
The attraction of the donkey rides ended up causing commerce to flourish, especially the food and drink business. For a long time, in Cacilhas the only rest day was Thursday, as Sunday was the busiest day.

Today, the Cacilhas Square (Alfredo Diniz Square) and Rua Cândido dos Reis, the street that gives access to Almada, continue to have a generous diversity of restaurants and cervejarias (restaurants that serve seafood and traditional dishes in which beer is the main drink).

Ginjal also used to be a place of restaurants where famous caldeirada (fish stew) became the main attraction for foreigners after there were no longer donkey rides. At the time the boats would dock next to the restaurants, where women sold varied seafood, such as sea snails, oysters, conches, crabs, river shrimp, cockles, clams…

This attraction no longer exists as well, times change but the wish to cross the river remains.
The Decaying but Charming Cais do Ginjal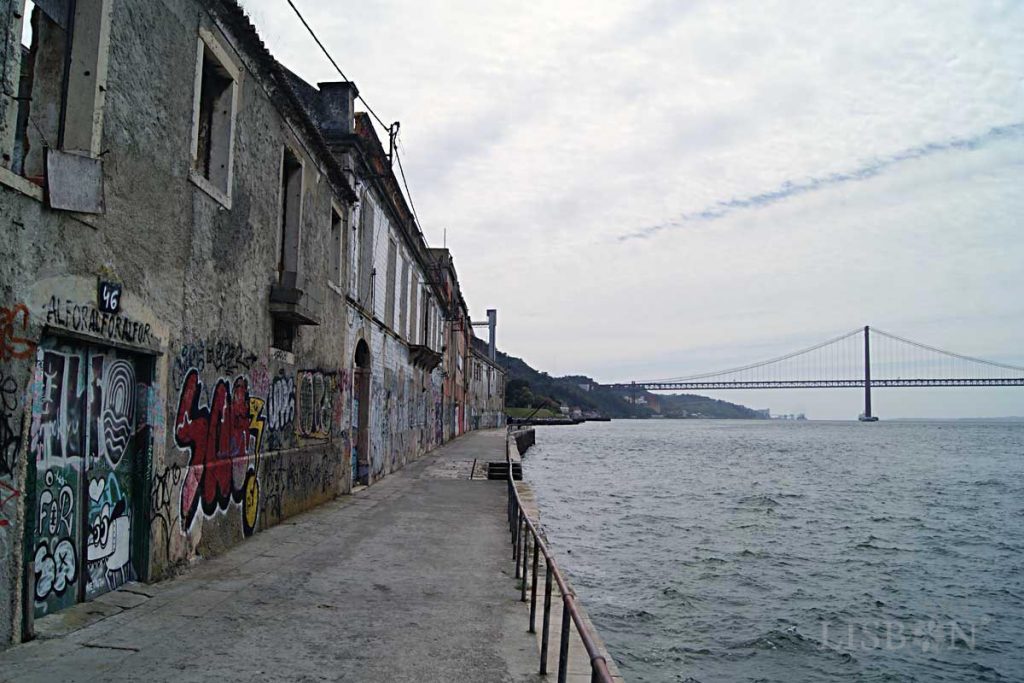 Today visiting Cacilhas continues to attract people, especially tourists that explore the now decaying, but not any less charming zone of Ginjal. Although it has been abandoned, crossing this place, which already has a planned recovery project, is overwhelming due to all of its stories. Approximately 1500m by the river connect the Cacilhas square, where the fluvial terminal is situated, to the place known as Olho de Boi (directly translated to "ox eye").

The origin of the name Ginjal (plantation of ginja – sour cherry) is unknown, but it is believed that on this slope, there were several trees of this species. In truth, even today there are still two or three of these trees.

At the end of this maritime visit you will find restaurants from where you can get splendid sunset views, as well as a pleasant garden area next to the lift that takes you to the historical centre of Almada.

But a little further ahead you cannot miss Fonte da Pipa and a visit to the Nautical Museum of Almada. Here you can learn about the secrets and memories of the shipyards that once existed in Cacilhas and Ginjal.

From here you can return through the same way or you can go on the Panoramic Lift and return to Cacilhas by crossing the centre of Almada.

However, after visiting Cacilhas, don't get on the boat back to Lisbon without first trying the seasonal snails or refreshing yourself with a Sereia (Mermaid) – a menu consisting of a cold draft beer and a saucer of delicious shrimp that the Cervejaria Farol has served for a long time, always with quality. 😉

When visiting Cacilhas check out:
Fountain of Pipa – fountain of 4 spouts, crowned by the shield with the royal arms of King João V, dated from 1736.
Church of Nossa Senhora do Bom Sucesso – built between 1756 and 1759, its main festivity is a procession that takes place in November 1, initiated after the miracle that spared Cacilhas from the seaquake that striked Lisbon during the earthquake of 1755.
Fountain of Cacilhas – all the water sources used to be located along Ginjal, which hindered the access to this precious good to the locals of Cacilhas. After popular demand the Fountain was built in 1874 and remained there until it was demolished in the end of the 1940s. After claiming from the population, a replica was built in 2012 – a monument of the local history and testimony of past life stories.
D. Fernando e Glória Frigate – Sailing war vessel that operated between 1845 and 1878. At the moment it is a Museum Ship of the Portuguese Navy that is in dry dock in Cacilhas.
Lighthouse of Cacilhas – built in France, it was inaugurated in 1886 and after 92 years, it was considered obsolete and thus, dismantled. In 1983 a violent earthquake in Terceira Island in the Azores destroyed a lighthouse that was temporarily replaced by the Lighthouse of Cacilhas. After a new one was built, the lighthouse returned to the continent and, once again, due to public demand, the old lighthouse returned to Cacilhas in 2009.
The old Fluvial Station's building (known as Parceria) – built in the mid 1920s in the style Art Deco, it operated as a waiting room for many decades. It's a wide space with benches that had a WC and a kiosk that sold newspapers and magazines.
The Portuguese pavement around the Fountain of Cacilhas where traditional Tagus river boats and dolphins are represented.
Panoramic Lift of Boca do Vento – It connects the Garden of Rio to Old Almada and features a privileged panoramic view over the city of Lisbon. It dates from the year 2000.
Church of Nossa Senhora do Bom Sucesso
Church of Nossa Senhora do Bom Sucesso
Church of Nossa Senhora do Bom Sucesso
Church of Nossa Senhora do Bom Sucesso
D. Fernando e Glória Frigate
D. Fernando e Glória Frigate
D. Fernando e Glória Frigate
D. Fernando e Glória Frigate
The old Fluvial Station's building
The old Fluvial Station's building
The old Fluvial Station's building
The old Fluvial Station's building
Panoramic Lift of Boca do Vento
Panoramic Lift of Boca do Vento
Panoramic Lift of Boca do Vento
Panoramic Lift of Boca do Vento
The project getLISBON has been very rewarding and we want to continue revealing the singularities of fascinating Lisbon.
Help us keep this project alive!

By using these links to make your reservations you'll be supporting us. With no extra costs!

• Look up the best hotels on Booking.com and get 15% or more off!
• Looking for a different experience? We can create a customised itinerary based on your interests. Contact us!
• Or if you prefer tours and other activities in various destinations, take a look at GetYourGuide.
• Save time and money with a flexible Lisbon Card!