In today's article about Rafael Bordalo Pinheiro around Lisbon, we seek to bring you public places where original work by this extraordinary artist can still be seen.
We'll also go through tributes to him and other public works inspired by his ceramic pieces. Thus, this time we'll meet Bordalo outside of the museum dedicated to him.
Get to know Lisbon's historic neighbourhoods in a guided tour and discover unmissable places of this magnificent city.
Bordalo Pinheiro and Lisbon
Rafael Bordalo Pinheiro (1846-1905), was born, lived and passed away in Lisbon. The city was marked by his undeniable presence. The cervejaria Leão de Ouro, the restaurant Tavares Rico, the São Carlos National Theatre are only some of the examples of places whose history wouldn't have been the same if it wasn't for Bordalo. The same happens with places where he left his art pieces, such as the ones in our selection.
In its varied artistic work, which extends from caricature drawing to graphic design, from interior decoration to ceramics, the city of Lisbon is a constant presence. His keen critical sense and humor spared no institutions, monuments, typical characters or habits.
To observe his work closely is to take a trip back in time to Lisbon at the turn of the 19th to 20th century. And as is typical of the greatest artists, his legacy consists not only of his artwork but also of the consequences and the inspiration that come from him.
Bordalo Pinheiro around Lisbon: Original Work
Tobacconist Mónaco
Tobacconist Mónaco, inaugurated in 1875, was an establishment that had a major impact on the city of Lisbon. Located at no. 21 in Rossio, specialised in tobacco and the first to sell foreign newspapers and magazines, it was the stage for gatherings of intellectuals and, later on, it was there that the first public telephone was installed.
In 1894 the space underwent a profound remodeling, taking on the shape it still has today. The project, led by the architect Rozendo Carvalheira, had the collaboration of the sculptor Pedro dos Reis, the painter António Ramalho, the magnificent wooden furniture from Brazil by Frederico Augusto Ribeiro and the tiles by Rafael Bordalo Pinheiro.
At the time, the tobacconist's space connected Rossio with Rua 1º de Dezembro, thus it had two doors. We can still see Bordalo's tiles surrounding these narrow passages today. The door on Rua 1º de Dezembro hasn't belonged to the tobacconist for a long time, but the tiles remain there, testifying this connection. Unfortunately, part of it is reassembled invertedly.
In these compositions, in the traditional blue and white but with yellow frames, which already indicate new times, the scathing artist parodies the customers, represented there as frogs and storks … These representations are extended inside the tobacconist. Colourful relief tiles of water lilies and frogs that cover a fountain that supplied water from Sintra, Caneças and Moura can also be seen there.
When the telephone was installed, fictitious telegraph wires were also installed inside the tobacconist as a sign of modernity. Bordalo, with great sense of opportunity, composed this staging by adding more than thirty of his fluttering swallows to the wires.
A surprising space classified as a Lisbon Historic Shop, which deserves to be visited.
Tile Decoration of Panificação Mecânica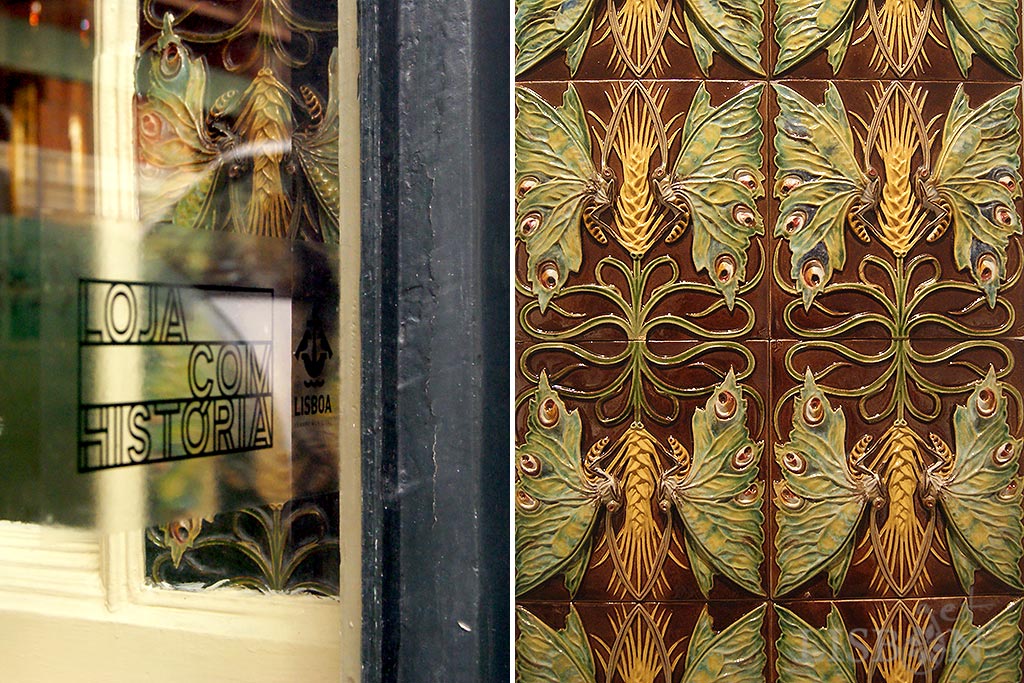 The second place we suggest you go and see Bordalo Pinheiro around Lisbon, is located in Campo de Ourique. It is here in this neighbourhood that was developed at the end of the 19th century, which was far away from the city centre at the time, that we'll find Panificação Mecânica.
This former bakery, now a pastry shop and a place for quick meals, also classified as a Lisbon Historic Shop, is located in a property of public interest, on the corner of Rua de Campo de Ourique and Rua Silva Carvalho.
There we find a decoration that mixes the language of Iron Architecture, Art Nouveau and of a classicist taste. An eclectic space that mixes, in a balanced and creative way, diverse materials such as glass, iron, stucco, wood and, of course, the relief tiles of Bordalo Pinheiro.
We don't know the year of its realization, but perhaps we can suggest 1902 when the Companhia de Panificação Lisbonense, which then occupied this location, submitted a project to the City Council of Lisbon to occupy the backyard with an oven room.
Currently, the profusion of exhibitors, counters and other modern accessories, require an exercise of abstraction in order to be able to focus on the essence of the space. Still, it is worth the trip!
While having a delicious stuffed croissant, you can wander the gaze over the magnificent tiles and walk among ears, poppies, swallows and butterflies.
Palace of Beau-Séjour
The Palace of Beau-Séjour, situated in Estrada de Benfica, was ordered built in the mid-19th century by the Viscountess of Regaleira.
A beautiful palace with a romantic style, which couldn't lack the typical garden marked by lakes, squares with benches and exotic vegetation.
It has been classified as a monument of public interest and since 1992 that it is the headquarters of GEO – Gabinete de Estudos Olisiponenses (Lisbon studies department) of the City Council of Lisbon. It is thus a public space that can be visited.
In the 1870s, Rafael Bordalo Pinheiro participated in the decoration of this building, as well as his siblings Columbano and Maria Augusta and the decorator Francisco Vilaça.
The old dining room gathers interventions by the three siblings. We highlight the pieces of Bordalo, relief tiles of water lilies and frogs, and also, a magnificent ceiling lamp from which hang generous grape clusters, vine leaves and other fruits in coloured ceramic.
In the lobby of this room is a surprisingly large piece. It is a profusely decorated basin. There, crowned by three sunflowers, an aquatic world populated by crustaceans, fish, eels and frogs develops, involving two medallions in the centre of which we can see game animals.
An extraordinary world that mixes naturalism and fantasy that Bordalo has accustomed us to.
Bordalo Pinheiro around Lisbon: Tributes
Toponymic Plaque of Bordalo Pinheiro Square
Rafael Bordalo Pinheiro lived on the 2nd floor of the no. 29 of the then Abegoaria Square, in Chiado. In 1915 this square took his name and this tribute even extended to the model of toponymic plates present there.
They're constituted by ceramic pieces on stone plaques mounted by four quadrangular pyramid metal nails. In a direct allusion to the relevant artistic legacy of Bordalo as a ceramist, the pieces are cut out as volutes, acanthus and colourful shells that frame the name Largo Raphael Bordallo Pinheiro.
Find out more about this urban equipment in Typologies of Toponymic Plaques of Lisbon and Unique Toponymic Plaques of Lisbon.
Monument in Tribute to Rafael Bordalo Pinheiro
This monument, inaugurated in 1921, consists of a stone plinth on which a bronze bust of Bordalo Pinheiro rests.
As we've seen in Public Art of Campo Grande Garden Route, it is an art piece of the youth of Raul Xavier (1894-1964), where the influence of his master, the sculptor Costa Motta (Tio) is still very prominent.
The decoration reminds us of the universe of Bordalo, through the presence of representations of the Republic, Zé Povinho and the cats.
You will find this monument in a discreet spot in the Campo Grande Garden right in front of the dynamic Bordalo Pinheiro Museum, a cultural space that deserves to be visited periodically, not only because of its collection but also its intense agenda.
Public Inspirations in the Art of Bordalo Pinheiro
Bordalo Pinheiro Garden in Pimenta Palace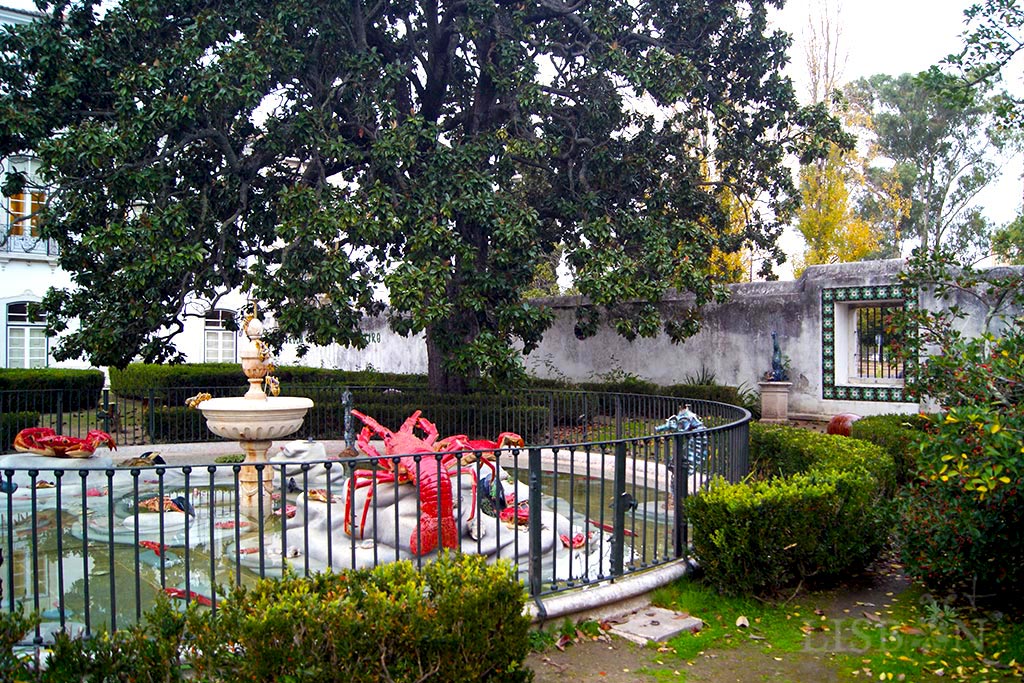 This fantastic garden located in Pimenta Palace, headquarters of the Museum of Lisbon, is a true tribute to the ceramic work of the genius plastic artist.
The idea of creating this space was from Catarina Portas, businesswoman and journalist of Lisbon and its elaboration was led by the plastic artist Joana Vasconcelos.
This project from 2010 had the support of the City Council of Lisbon and in addition to being a tribute to Bordalo, it also aimed to save the ceramic company created by the artist in Caldas da Rainha in the year of 1884 from bankruptcy.
Throughout the garden, among trees and shrubs, in the middle of the lakes, you will be surprised by large animals such as: snakes, crabs, frogs, bees, lobsters among many others.
Find everything out in Bordalo Pinheiro Garden, the Unusual and the Fantastical!
Tile Covering and a Medallion in the Campo Grande Pedestrian Walkways
In the north area of the Campo Grande Garden there are two pedestrian walkways. One next to the Museum of Lisbon and The Faculty of Sciences of the University of Lisbon and another one in front of the Lusófuna University.
In both there are relief tiles with the cat pattern of Bordalo Pinheiro and a ceramic medallion à Della Robbia, with the artist's profile in white on a sky blue background, encircled by a crown of polychrome flowers and fruits.
In Bordalo Pinheiro Garden there are two other examples of this medallion.
Hissing Cat and Snail in Guerra Junqueiro Avenue
In the area of Avenidas Novas, more specifically at Guerra Junqueiro Avenue, next to Londres Square, there are two ceramic pieces since 2018, large replicas of two works by Bordalo Pinheiro.
They are a Hissing Cat, an animal for which the artist had particular affection and a giant snail that shares the space of a public bench, covered with plain green tiles and others with water lilies, frogs and flowers.
These art pieces were gifted by the Bordallo Pinheiro Ceramic Factory to the City Council of Lisbon, concretely to the Areeiro Civil Parish and they're also our last suggestion that we've selected for you to find Bordalo Pinheiro around Lisbon.
Happy strolls!
The project getLISBON has been very rewarding and we want to continue revealing the singularities of fascinating Lisbon.
Help us keep this project alive!

By using these links to make your reservations you'll be supporting us. With no extra costs!

• Look up the best hotels on Booking.com and get 15% or more off!
• Looking for a different experience? We can create a customised itinerary based on your interests. Contact us!
• Or if you prefer tours and other activities in various destinations, take a look at GetYourGuide.
• Save time and money with a flexible Lisbon Card!