Have you noticed that there are several typologies of toponymic plaques in Lisbon? Did you know that they have stories and curious facts to tell? Let's find out!

There's no doubt that toponymy, the etymological and historic study of the origins of place names, is a very interesting field that reveals to us precious and surprising information about places and localities.

But in this article we won't cover toponyms but rather their display, true records that carry interesting aspects of the history of a city.
Get to know Lisbon's historic neighbourhoods in a guided tour and discover unmissable places of this magnificent city.

Also read about the Unique Toponymic Plaques of Lisbon.
The Evolution of Typologies of Toponymic Plaques of Lisbon
For centuries the names of streets and places were passed on by word of mouth from generation to generation. The toponyms were spontaneous and originated directly from the life of a population, by reflecting their relationship with the space and urban development.

Until 1760, during the reconstruction of the city after the terrible earthquake of 1755, when the first ordinance that officially attributed names to the cities of downtown Lisbon was published.

It was also at that time that the first official toponymic plaques appeared.

However, through time, different typologies of toponymic plaques in Lisbon emerged.

Let's take a look at the main types that can be found in this city of the seven hills and their characteristics.
Engraved Plaques on Quoins
The first official type of toponymic plaques of Lisbon, implemented in the Pombaline era, was directly engraved on the stone of quoins, with an elevated frame and reentrant and rounded corners.

With the establishment of the Republic, several streets of the Pombaline downtown with names related to the monarchy were replaced. For instance, Rua Nova D'El Rei (directly translated to 'new street of the king') was changed to Rua do Comércio (directly translated to 'commerce street').

However, this first type was preserved and if you take a closer look you'll find them next to the plaques with the new street designations.

The new names also gave rise to a new type that consists of a rectangular stone plaque mounted with metal nails. They're similar to the previous ones in shape, in order to preserve the noble image and to value the importance of downtown Lisbon.

However, we can only find these in a few main streets. The remaining roads have another typology of stone plaques mounted on walls, which were introduced posteriorly and of which we'll talk about later in this article.
---
---
White Lettering on a Black Background Plaques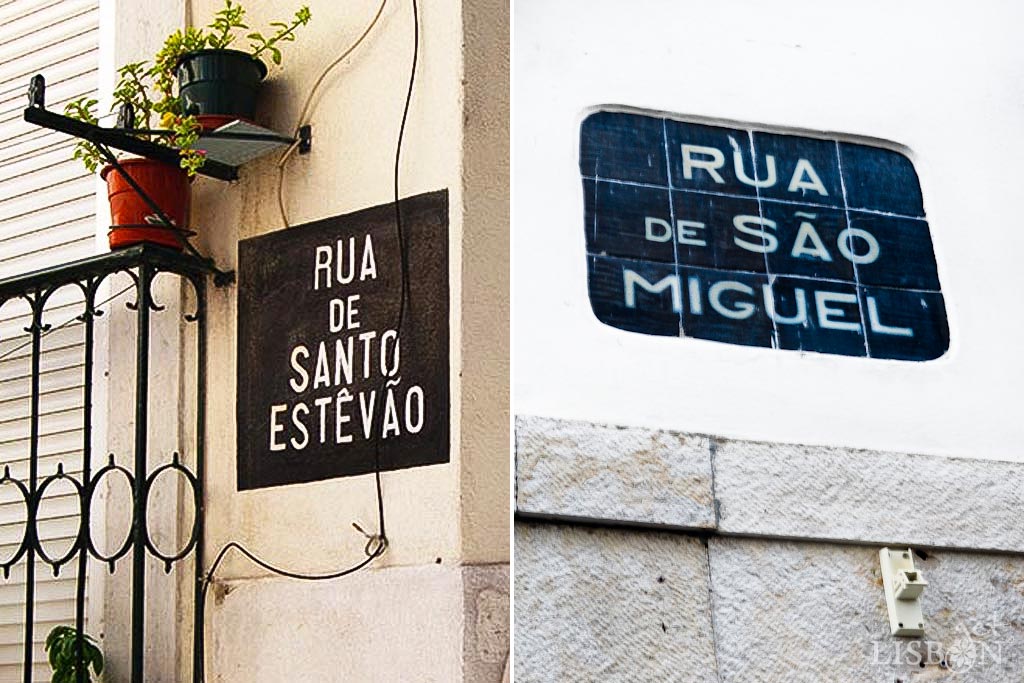 In the early 19th century, with the need of structuring a mail service as well as the organisation of the police itself, the process of attributing police numbers to the houses and of naming streets was initiated.

In that sense a regulation was published to put into practice the indication of the street names in a durable and economical way. This was achieved by painting black plaques with white lettering directly on the quoin or façade of the buildings.

This typology of toponymic plaques was mostly used in the zones of Alfama and Castelo and has become part of the identity of these historic neighbourhoods.

However, it's also possible to find this type with the same characteristics, but instead they're tiled and mounted or embedded, a variation introduced in the 21st century. It was probably a solution to facilitate their maintenance while preserving as much as possible the graphic appearance of the previous ones.

This solution was however discontinued and according to available information, the painted plaques will be replaced as the need to replace the tile plaques emerges.
White Tile Plaques with Blue Lettering and Thin Framing
The plaques in white tile with blue lettering and thin framing were widely used starting in the 1930s in several areas, such as: Campo de Ourique, Bairro Alto and Bica.

In the 50s its use was extended to the social neighbourhoods of Alto da Ajuda and Caselas.

In addition to these localities, it is also patent in other very distinct places in the city. Among them are: Alfama, Bairro da Encarnação and Bairro do Arco do Cego.
Stone Plaques
Starting in the 1940s, besides the models already mentioned, there are also two types of stone plaques, both made of lioz with engraved letters, painted in black.

The difference between them is essentially their shape and their application: one is wall-mounted with metal nails and the other is placed on a pillar.

This last model had a wider use in the expansion areas of Lisbon, where wide pavements and large green areas impede the placement of toponymic plaques in buildings or at a readable distance.

Another important fact about these models is that from the 80s onwards a legend started being incorporated when the toponym was related to a personality. It would include their main activity, as well as their birth and death dates.

Now when it comes to the stone plaques mounted on the façades, it is the most widely used among the typologies of the toponymic plaques of Lisbon and thus, it is part of the identity of the city.
Framed Plaques
Although there were several typologies of toponymic plaques already, a new type emerged in the 80s. It is tiled and features a black and white frame as a heraldic chromatic reference, as well as a boat with crows, the symbol of the city of Lisbon.

This model, discontinued in the meantime, was used in new roads or in streets whose name had been changed.

We can find many of them in the neighbourhood of Caselas in the west zone of Lisbon.
Parque das Nações Plaques and Similar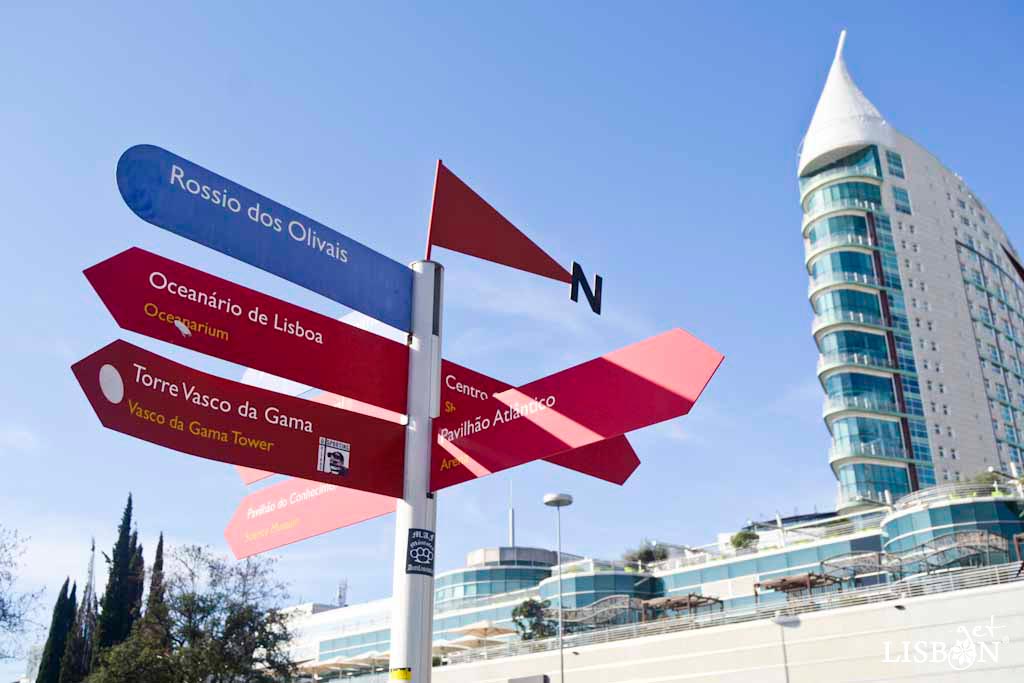 With the World Expo'98, Lisbon went through a deep transformation. After the concretisation of this event, the east zone of the city went from being a decaying area to a surprisingly pleasant residential and entertainment place, today called Parque das Nações.

Its toponymic plaques has its own design, which matches the development of urbanism and architecture. The plaques are blue and placed on an aluminum pole in conjunction with indication signs.

In Alta de Lisboa, another expansion zone, we can find similar plaques to the ones in Parque das Nações.

Plus, similar plaques have also been recently placed throughout República Avenue.


At first glance this urban equipment can seem to be just a small detail of a city, but in fact it accompanies its evolution, marks different eras and gives character to different areas and neighbourhoods.
The project getLISBON has been very rewarding and we want to continue revealing the singularities of fascinating Lisbon.
Help us keep this project alive!

By using these links to make your reservations you'll be supporting us. With no extra costs!

• Look up the best hotels on Booking.com and get 15% or more off!
• Looking for a different experience? We can create a customised itinerary based on your interests. Contact us!
• Or if you prefer tours and other activities in various destinations, take a look at GetYourGuide.
• Save time and money with a flexible Lisbon Card!