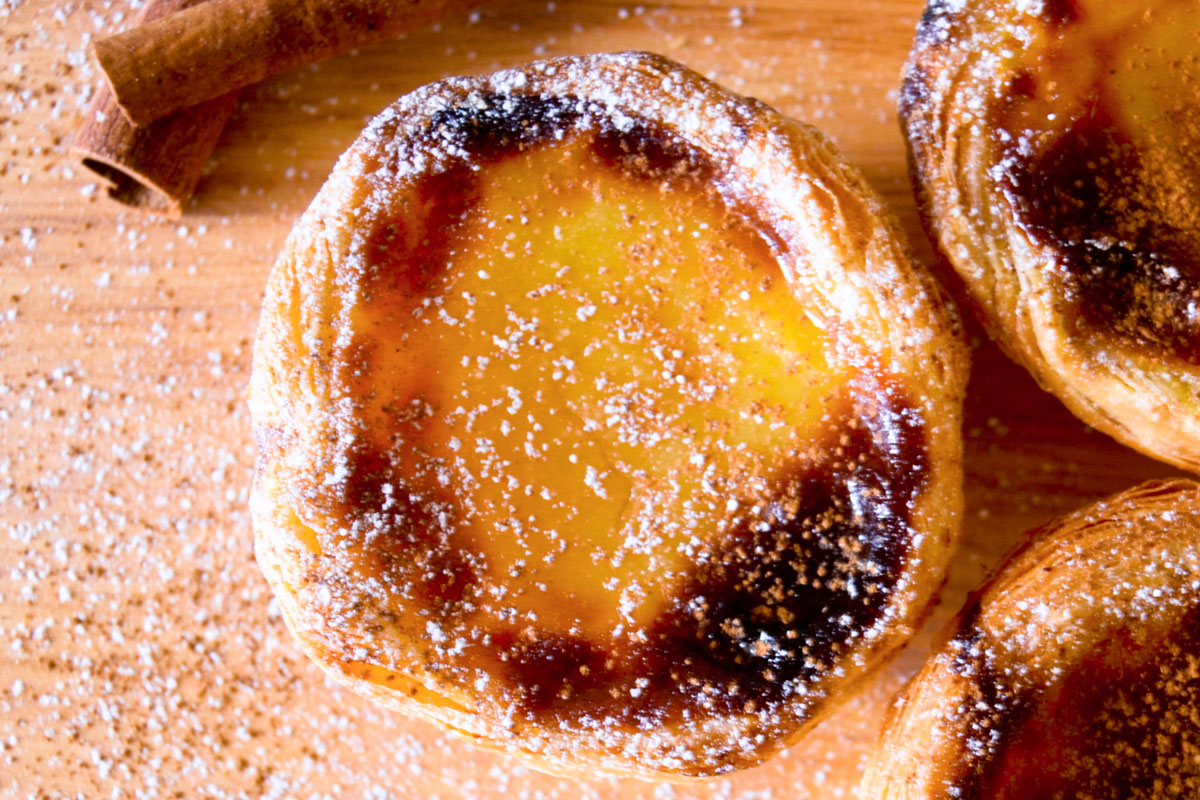 'Excuse me, can I have two pastéis de Belém, please?' asked a tourist in one of the many cafes in the heart of Lisbon, Chiado.
The waiter, tired of giving the same reply, politely said 'I'm afraid we don't have pastel de Belém, only pastel de nata (egg custard tart).'
The woman, intrigued, pointed at the tarts that were on the café's display.
This episode was one of several that we witnessed during our incursions through this Seven Hills city, searching for more peculiar and interesting aspects to share with our readers.
For those who know Lisbon, this post might not add much. However, for those who come to Lisbon as an explorer, here you'll find the answer to this question and understand the story of this delicious Portuguese pastry, famous worldwide and that represents Portugal so much.
Pastéis de Belém
Due to the expulsion of the religious orders in 1834, the clergy and the workers of the Monastery of Jerónimos were forced to leave this place. As an attempt to survive, someone started selling delicious pastéis in an establishment associated with the sugar cane refinery that was next to the Monastery.
Soon, the pastéis became famous and the inhabitants of Lisbon even came by steamboat to visit the Monastery of Jerónimos and the Belém Tower, and of course, they couldn't miss to include some pastéis de Belém in their pleasant walk.
Just a side note: in the 19th century, the area of Belém was outside of the city centre and only after a long journey could we reach the pastéis de Belém.
Good news is, we're in the 21st century and we can easily reach and taste these same tarts that are no more than a variant of the pastéis de nata, but according to a secret recipe of the Monastery.
Or you can choose to learn how to make this famous egg tart in a cooking class with professional and friendly chefs. 🙂 Book now!
Pastéis de Nata
The true origin of the pastéis de nata is more distant, it dates back to the 16th century. At that time, it was already a current practice to make this pastry in the religious convents. Throughout the years, the recipe has been perfected and changed and fortunately, has lasted until today. Thanks to that, we can appreciate many different pastéis de nata, equally or even more appetizing than the ones from Belém, throughout this city.
Annually, a big event is held around this much-loved sweet, the contest "O Melhor Pastel de Nata" (The best egg custard tart), to spread and find the best confectioners of this secular art.
Do not fail to taste them, especially when they are crispy on the outside and creamy inside. According to the precepts, a sprinkle of cinnamon and powdered sugar enhances the flavour and the pleasure of having our hearts warmed.
Here in getLISBON, we can't agree with each other. I, Gracinda, prefer them simple. 🙂 I, Teresa, on the contrary, like them with lots of sugar and cinnamon. 😀
The project getLISBON has been very rewarding and we want to continue revealing the singularities of fascinating Lisbon.
Help us keep this project alive!

By using these links to make your reservations you'll be supporting us. With no extra costs!

• Look up the best hotels on Booking.com and get 15% or more off!
• Looking for a different experience? We can create a customised itinerary based on your interests. Contact us!
• Or if you prefer tours and other activities in various destinations, take a look at GetYourGuide.
• Save time and money with a flexible Lisbon Card!