Amália Rodrigues is a remarkable personality that ignites passions. In Lisbon in Us by Pedro Vaz, this tourist guide reveals his admiration for his hometown but above all for its people and also the true passion he has for the artist.
I can't imagine living in another city. The light, the colours, the river, the proximity to the sea, the geography of the city with its hills, everything in Lisbon fascinates me. After all these years, I still manage to surprise myself with our Capital City.
But it is above all the people who give it this strength, this charisma and the authenticity that is so characteristic of Lisbon. Its people!
A diverse, multicultural and multiethnic city, where the ancient coexists in perfect harmony with the more modern and avant-garde. A city of a thousand colours, a thousand smells, Lisbon is unique!
However, it's for the remarkable figure of fado, Amália Rodrigues, that I feel a great fascination.
The Amaliano
My passion for Amália is a true love story (reciprocated) and dates back to April 19, 1985. On that date I was only 14 years old and I attended for the first time a recital by Amália at the historic Coliseu dos Recreios in Lisbon.
I knew perfectly well what I was getting myself into but I never expected what happened to me on that magical night. The voice, the presence, the silhouette, the charisma, the magnetism, the power of nature that Amália is and the total unity with her audience, left an indelible mark on my personality and way of understanding the world. It was like being touched by the sacred, making it difficult to explain or understand this phenomenon to those who didn't have the privilege of seeing and hearing her live.
From then on I started to follow Amália whenever I could, joining the group of "Amalianos", a group founded in 1973 formed by people who absolutely loved (and love) Amália. Not only the artist but also the woman, the exceptional human being that Amália was. Thus, having the enormous privilege of being frequent visitors to her house. I also naturally attended her last show at Coliseu dos Recreios in Lisbon in December 1994 on the occasion of the commemorations of Lisbon, European Capital of Culture.
On October 6, 1999 there was silence! Amália left us but her immense legacy will prevail forever for future generations!
In the meantime, the world is devastated by this pandemic and Tourism practically freezes. And now? What to do?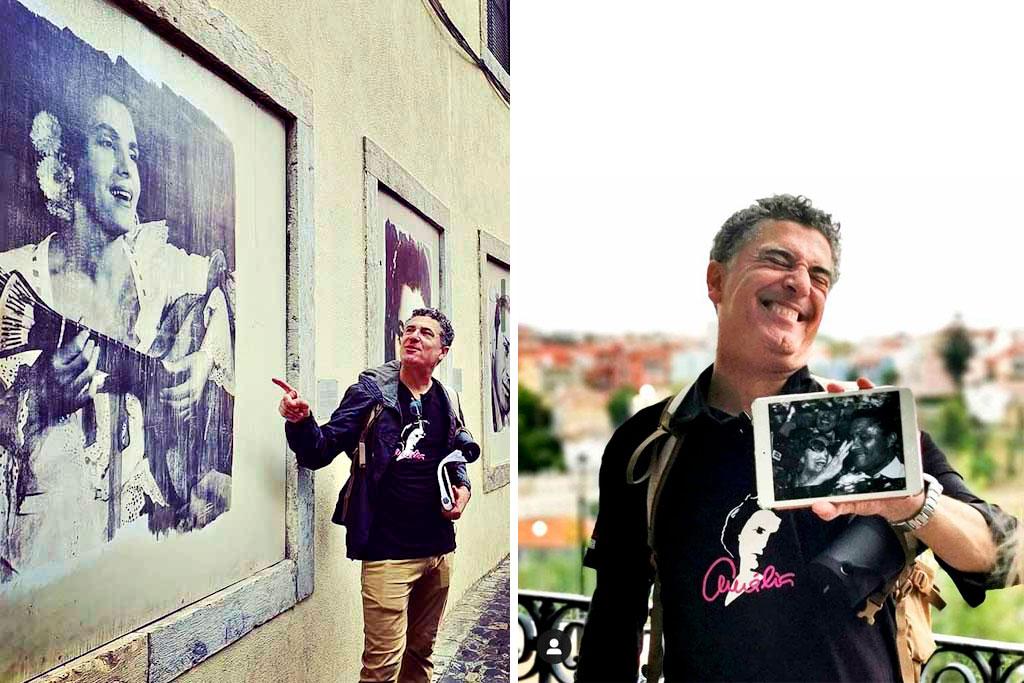 And it was precisely in this context of pandemic and confinement, but above all of the commemoration of the centenary of Amália's birth, that I was able to carry out the project I had in mind for several years now, "Viver Amália" (Live Amália).
It is a walking itinerary through Lisbon, starting at the home where she was born and ending at the home where she lived for over forty years and would later die, today House-Museum – Amália Rodrigues Foundation.
The pandemic that affects us all ended up kicking off this project, the great timing of the centenary of Amália made a great contribution, but as I don't believe in magic formulas for success, this is only due to one single factor: PASSION!
| | Lisbon in Us by Pedro Vaz |
| --- | --- |
| Mini introduction | Pedro Pinheiro Vaz was born in Lisbon and it's in this city that he lives and works in the profession he chose since he was very young: tourist guide. |
| An inspiring place | View of Lisbon from Cacilhas |
| An unmissable visit | Calouste Gulbenkian Museum |
| His mouth waters with… | Marinated horse mackerel |
| A song… | Que fazes aí, Lisboa by Amália Rodrigues |
| | |
The project getLISBON has been very rewarding and we want to continue revealing the singularities of fascinating Lisbon.
Help us keep this project alive!

By using these links to make your reservations you'll be supporting us. With no extra costs!

• Look up the best hotels on Booking.com and get 15% or more off!
• Looking for a different experience? We can create a customised itinerary based on your interests. Contact us!
• Or if you prefer tours and other activities in various destinations, take a look at GetYourGuide.
• Save time and money with a flexible Lisbon Card!