It was at Casa da Cultura de Sacavém that urban artist MOAMI told us about her journey, her art and also her mural created for Loures Arte Pública 2021 (public art festival), which has been revealed to be particularly inspiring.
Over time, we've been lucky with the people we come across, most of them very willing to help and contribute to the enrichment of our project. But there are always those in particular that touch us with their friendliness, simplicity and affection.
The urban artist MOAMI is one of them.
After accepting to share her testimony in Lisbon in Us by MOAMI, we were fortunate to get together again, in an open and friendly conversation.
From Child Artist to Urban Artist MOAMI
Born into a family with artistic skills, her taste for drawing was manifested in the speed and creativity with which she spent the pencils, pens, brushes and paints she had available.
At 13, she moved from Angola to Lisbon and at school the subjects of Visual Education and Geometry were her favourites: "I always sat in front; I had a reserved seat".
Her talent was recognised by colleagues who asked her to draw Japanese manga characters, such as the famous Dragon Ball.
It was in high school that she started drawing on walls. She told us that she didn't like the parties that took place at the end of the school year and on one of these occasions she decided: "let's paint today!". From then on, she replaced pens and pencils with spray paint and never stopped.
In the beginning she worked a lot with lettering and at the time urban art was not at all understood by the general public, thus sometimes the reactions she received weren't the best.
Until one day she looked at the pictures she was already creating and thought: "Maybe I'll start creating something prettier to see if people interact with the paintings" more positively. That's how the different characters came to life and now they're the distinguishing mark of the artworks of urban artist MOAMI.
Sources of Inspiration
Her tag MOAMI wasn't randomly picked and it has meanings deeply linked to her personality.
Since an early age, she has had an admiration for Hawaiian culture and mystique, and it was in this context that she found the perfect word to represent herself. Moa, in addition to designating the bird rhea, means "shadow of the waters", which led the artist to confront one of her greatest fears: water, especially the sea.
At the same time, moami, in the mother tongue of her parents, means "my heart", which to a certain extent expresses her art, which aims to be global, touching and motivating.
But MOAMI may not know that her name in Japanese (another culture that she also greatly admires and inspires) means knitting, which actually relates to the rich texture, explosion of colours, patterns, symmetries and details of her fantastic works.
She also revealed to us that the panda is her favourite animal, hence its frequent representation on her murals. There are also recurrent elements that remind us of the Russian dolls that the artist says have to do with the origin of her first name, Stélvia.
It's in this multifaceted and multicultural combination that the urban artist MOAMI develops her narrative-works, associating them with encouraging messages.
In addition to urban art, we can find her creations on posters and notebooks and printed on accessories such as t-shirts, bags, masks, among others.
She also teaches those who want to learn graffiti, through workshops.
Murals of Urban Artist MOAMI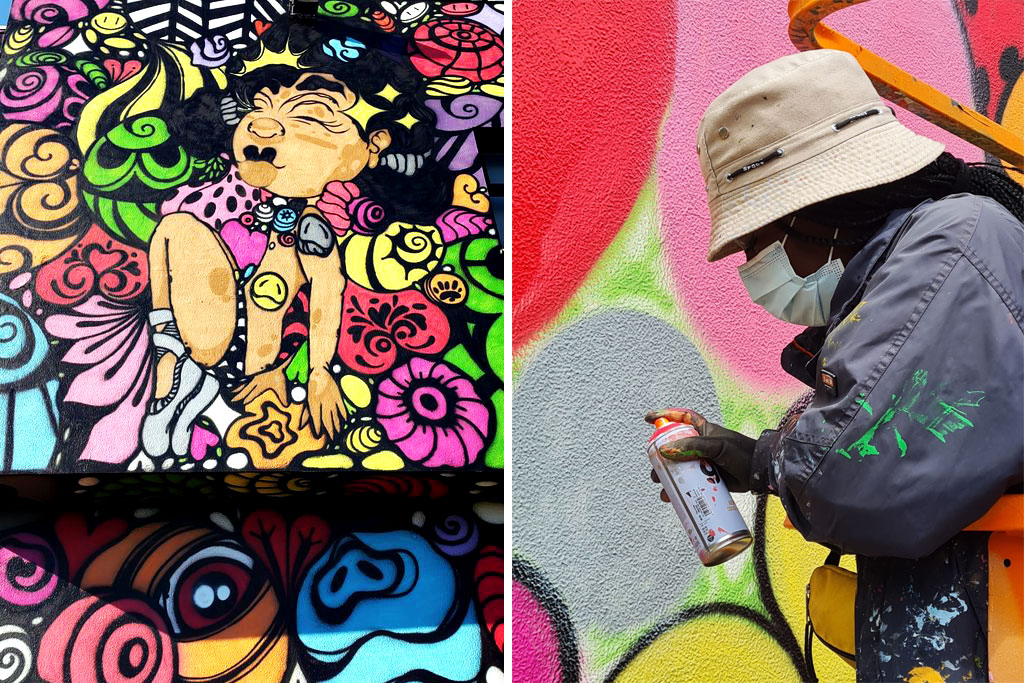 We can find MOAMI's works in several locations, the greatest concentration being in the city of Lisbon and in the neighbouring municipality of Loures.
Among many others, she participated in the project Faces in the Blue Wall, in Alvalade; in the celebrations of Women's Day, in 2020 and in 2021, in Graça; in the Festival O Bairro i o Mundo in 2015, in Quinta do Mocho and it is also possible to find her paintings in Parque Hortícola do Vale de Chelas, in Marvila.
We highlight MOAMI's piece Bailarina de Sonhos (dream ballet dancer), created in June 2021 for the Loures Arte Pública festival that is located on the façade of a kindergarten in Santo Antão do Tojal.
Through the main character, MOAMI intends to enhance the importance of RESILIENCE. With a lot of work, discipline and persistence, the dancer will reach her goals and make her dream come true.
She told us how she was particularly touched by the reaction of a group of children who visited her during the making of the mural, as they fully understood the meaning of the story of this dancer who's a fighter.

It is precisely under the motto "never give up on our dreams" that urban artist MOAMI, with a lot of dedication, effort and discipline, has been building her artistic and creative work in a correct and solid way.
We wish her the best, she deserves it!
Follow MOAMI on Instagram and Facebook!
A Artista Urbana MOAMI 3
Rostos do Muro Azul, Rua das Murtas
Rostos do Muro Azul, Rua das Murtas
Rostos do Muro Azul, Rua das Murtas
A Artista Urbana MOAMI 4
Parque Hortícola do Vale de Chelas
Parque Hortícola do Vale de Chelas
Parque Hortícola do Vale de Chelas
A Artista Urbana MOAMI 7
In collaboration with the artist ARTYFREAKS, Calçada da Glória
In collaboration with the artist ARTYFREAKS, Calçada da Glória
In collaboration with the artist ARTYFREAKS, Calçada da Glória
The project getLISBON has been very rewarding and we want to continue revealing the singularities of fascinating Lisbon.
Help us keep this project alive!

By using these links to make your reservations you'll be supporting us. With no extra costs!

• Look up the best hotels on Booking.com and get 15% or more off!
• Looking for a different experience? We can create a customised itinerary based on your interests. Contact us!
• Or if you prefer tours and other activities in various destinations, take a look at GetYourGuide.
• Save time and money with a flexible Lisbon Card!