Tracing Amália Rodrigues in Lisbon reveals to you marks of the Portuguese artist, perhaps the one with the most important legacy of the history of popular music in Portugal in the 20th century.
Her artistic contribution was determinant for the development and internationalization of fado and she's considered by many one of its best interpreters.
As it should be, Amália Rodrigues (1920-1999) sang Lisbon.
The city is a recurring topic in countless fados: Gaivota, Ai Lisboa, Lisboa à Noite, Lisboa Antiga, Ai Mouraria, Há Festa na Mouraria, Maria Lisboa, Madrugada de Alfama…
But also in popular marches so famous that even today everyone sings them on the night of Saint Anthony, which is part of the Lisbon Festivities: Noite de Santo António, Lá Vai Lisboa, Lisboa dos Milagres, Lisboa dos Manjericos, Lisboa Noiva do Fado, Lisboa Não Sejas Francesa, among others. As well as many marches from the popular neighbourhoods, such as Mouraria, Alcântara, Alfama, Benfica, São Vicente…
Amália is a phenomenon of popularity that remains alive in many tributes that, in different ways and in different places, are present in the city where she was born.
getLISBON joins the celebration of the centenary of her birth with Tracing Amália Rodrigues in Lisbon.
Take advantage of the well-rounded programme Lisbon: Live Fado & Alfama Tour with Traditional Dinner to enjoy this peculiar sonority of Lisbon.
Tracing Amália Rodrigues in Lisbon: From Her Roots to Art Pieces
The house where Amália was born, the places of her youth, the museums that make references to her, the official tributes and the art pieces that she continues to inspire, are some of the traces that we propose.
Roots
Amália Rodrigues was born at her maternal grandparents' house, located in a poor courtyard in Rua de Martim Vaz no.86, a discreet artery parallel to Calçada de Santana.
There you can find a plaque that marks this event by the sculptor Lagoa Henriques (1923-2009). Inside the courtyard, another plaque tells us that "On July 23, 1920, Amália Rodrigues was born here. Homage by the City Council of Lisbon. July 23, 1997 ".
July 23 is the day she was registered, but it doesn't match her birthdate, which is uncertain. Her grandmother told her, poetically, that she was born during the season of cherries. Therefore, the artist herself adopted the 1st of that same month to celebrate her birthday.
Still in Santana Hill we must mention the magnificent Pena Church, where she was baptised.
Youth
When she was six, Amália moved with her grandparents to the west zone of the city.
Alto de Santo Amaro, Alcântara, Pampulha, were the places of her youth. Even though not all addresses are precisely known, it's safe to say she was present in two places: Pátio dos Quintalinhos in Calçada do Livramento and Raul Lino School in Calçada da Tapada.
The former, a modest worker housing neighbourhood situated in Baluarte do Livramento that was fortunately recovered. Casa de Goa is located there and the Tagus river can be seen from a magnificent terrace. Knowing for sure that this location was one of Amália's addresses, it's a pity that we can't find any reference to this fact there.
The current Raul Lino Primary School, at the time Tapada da Ajuda School was the only school frequented by Amália Rodrigues. She enrolled there when she was turning nine years old and in three years only she completed her primary education. Her teacher would've wanted her to continue her studies but her grandmother decided it was enough.
This is an interesting school built in 1915 from the project of the architect Raul Lino (1879-1974). In addition to the conception of the space itself, there are surprising paintings that have occupied the imagination of generations. In the circulation areas there are works by the painter António Soares and inside the classrooms by Raul Lino himself, Alice Rey Colaço, Fred Abecassis and Conceição Silva. Also worthy of mention are the tiles in the cafeteria, which were also designed by the architect.
Amália Rodrigues House-Museum
Amália Rodrigues lived in Rua de São Bernardo in Estrela for some years but in 1954 she acquired a pre-Pombaline property in Rua de São Bento no.193, where she lived for the rest of her life.
Fulfilling her wish, this house was opened to the public and today it reveals the most private aspects of her life, her intimate world.
The Amália Rodrigues House-Museum was inaugurated on July 24, 2001 and remains as if the artist still lived there, as if frozen in time. There you can see dresses and jewelry, personal belongings, furniture, prizes and memories.
Here are also the headquarters of Amália Rodrigues Foundation, created after she passed away. An institution that aims to preserve, study and disseminate her life and work.
It's definitely a place of reference that you should visit and where you can count with the sympathy and availability of those who'll welcome you.
Other Museums
But if you want to know more about the professional path and career of Amália Rodrigues, then you must visit two other important museums: the Fado Museum and the National Museum of Theatre and Dance.
In the former you'll find a space where the universe of fado and the Portuguese guitar are lived and celebrated daily. The undeniable presence of Amália Rodrigues is in sound, photographic or film recordings and her image is spread throughout the museum, inspiration of many contemporary works of art.
The National Museum of Theatre and Dance, on the other hand, has an exhibition center especially dedicated to the fado interpreter. In addition to a variety of documentation including photographs, there are about 60 costumes from her professional wardrobe that she used in performances in international showrooms as relevant as the Olympia in Paris, the Lincoln Center in New York, the Canecão in Rio de Janeiro, the Teatro Sistina in Rome or the Coliseu dos Recreios in Lisbon.
Posthumous Tributes – Amália Rodrigues Garden and National Pantheon
One year after her death, the City of Council of Lisbon named after her the garden that prolongs the Eduardo VII Park, by the architect Gonçalo Ribeiro Telles.
Against her will, who wished for a more discreet address, Amália Rodrigues rests today in the National Pantheon.
Her body was transported from Prazeres Cemetery, only after two years of her death, to the Portuguese Language Room, becoming this way the first woman to integrate the group of great national personalities distinguished there.
A tribute that reveals the importance that the artist represents in the panorama of not only Portuguese music, but also of the divulgation of classic and contemporary poetry that Amália introduced in fado.
Discoteca Amália
It was 1992 when Manuel Simões (1917-2008) opened Discoteca Amália (Amália Record Shop) in Rua do Ouro.
This important businessman from the industry and trade of discography was the owner and founder of the mythical Discoteca do Carmo (1957-1998) and the manager of the famous van that livened up Rua do Carmo everyday with fado chords.
In 2001 from his initiative, a foundation named after him was created with the objective of promoting the different sides of fado, as well as of supporting new artists.
This is the foundation that today manages Discoteca Amália, a space of sale of records that still resists the modern times. Its tribute to the artist is always very evident in the decoration of the window shop.
Here you can get a lot of Amália Rodrigues' discography, but not just that. Their selection is eclectic but the highlight is their intriguing records for collectors of cassettes, CDs and vinyl records.
A surprising space very loved by the tourists!
Art Pieces of Tribute to Amália Rodrigues
Amália Rodrigues didn't just inspire poets and musicians that composed for her. She also inspired plastic artists that are sensitive to her musical legacy and her strong image.
In Tracing Amália Rodrigues in Lisbon we highlighted some of these artworks.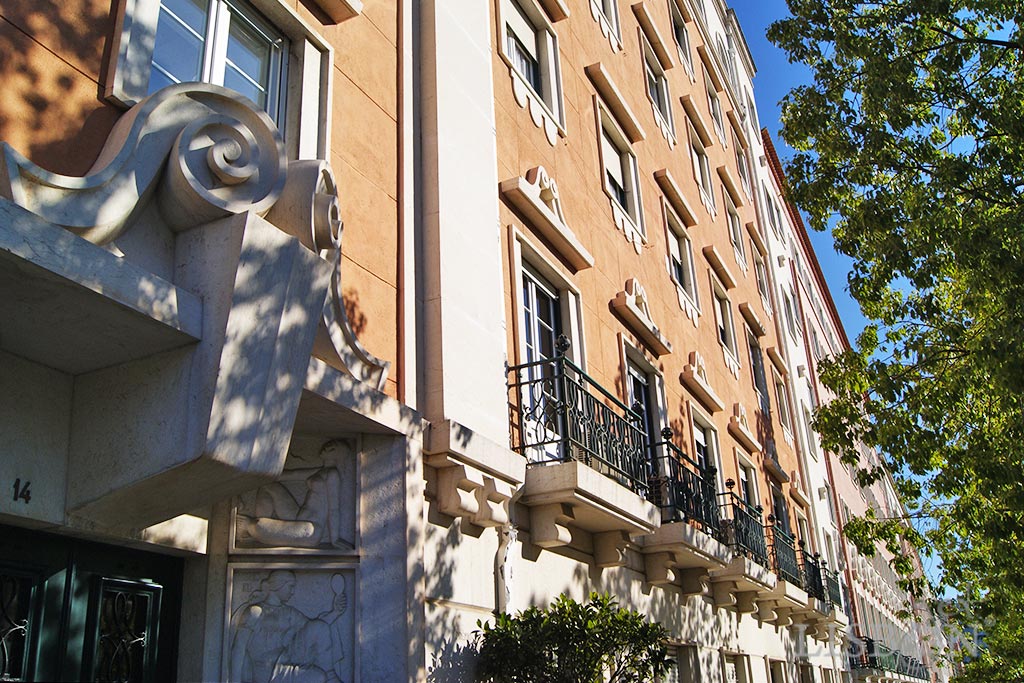 Português Suave 3
Av. Fontes Pereira de Melo
Av. Fontes Pereira de Melo
Av. Fontes Pereira de Melo
We hope you've enjoyed Tracing Amália Rodrigues in Lisbon with us!
Curious fact

After the death of Amália Rodrigues it was proposed that the old Rua de São Bento where she used to live, would be changed to Rua Amália.The proposal wasn't approved but even today, after 21 years, we can find it written in the walls all throughout the street.
The project getLISBON has been very rewarding and we want to continue revealing the singularities of fascinating Lisbon.

Help us keep this project alive!

By using these links to make your reservations you'll be supporting us. With no extra costs!

• Look up the best hotels on Booking.com and get 15% or more off!
• Looking for a different experience? We can create a customised itinerary based on your interests. Contact us!
• Or if you prefer tours and other activities in various destinations, take a look at GetYourGuide.
• Save time and money with a flexible Lisbon Card!
• Rent a car with Autoeurope and discover other regions of Portugal