Lisbon's light … How can we define a phenomenon that everyone recognises but that is so hard to put into words?
Nothing better than poems to transmit what's special and what's difficult to explain. Lisbon's light is frequently mentioned in poems and in fado lyrics.
But painters, photographers and filmmakers, either Portuguese or foreigners, also seek to capture and register the intensity and glow that enchants them and that is an intangible icon of the city.
It's a fascinating natural phenomenon, well-known internationally and one of the true reasons to visit Lisbon.
But why does this city of the seven hills have such a peculiar characteristic?
Get to know Lisbon's historic neighbourhoods in a guided tour and discover unmissable places of this magnificent city.
Lisbon's Light
The magic of Lisbon's light results from several fundamental factors, such as the geographic location and the topography of the terrain… but that's not all!
Light Given by Nature
Without a doubt the high number of hours of sunshine due to the proximity to the Antlantic coast of South Europe contributes to this phenomenon.

On top of that, the fact that it's an aired out city, where the wind tends to dissipate the dust, helps make the days bright and impressively clear.

These aspects could be less evident if the city was flat.

In truth the topography of Lisbon, characterised by accentuated hills and valleys that head in the direction of a large river, creates an effect of an amphitheatre, which is favorable for a prolonged sun exposure, for the dramatic contrasts of light and shade and, of course, for the existence of viewpoints.

And what can we see from these privileged locations? Wide landscapes of Arrábida Mountain Range, of the called Mar da Palha (Sea of Straw – a large water basin of the river on the east side of Lisbon), of the entire Tagus estuary and of the light and bright houses facing the river.

The fact that the river is located in the south allows the city to have a prolonged sun exposure. On the one hand it is an open space that doesn't provide any shade to the city, but on the other hand it contributes even more to a stronger and richer luminosity with the reflection of the water that changes its colour throughout the day.

The sunset is one of the moments in which Lisbon's light is most magical.
Get to know viewpoints of Lisbon with getLISBON:
• Viewpoints in National Monuments of Lisbon
• Discovering the Viewpoints of Penha de França and of Monte Agudo
• 5 Discreet viewpoints of Lisbon, Tagus River Balconies
Man-made Light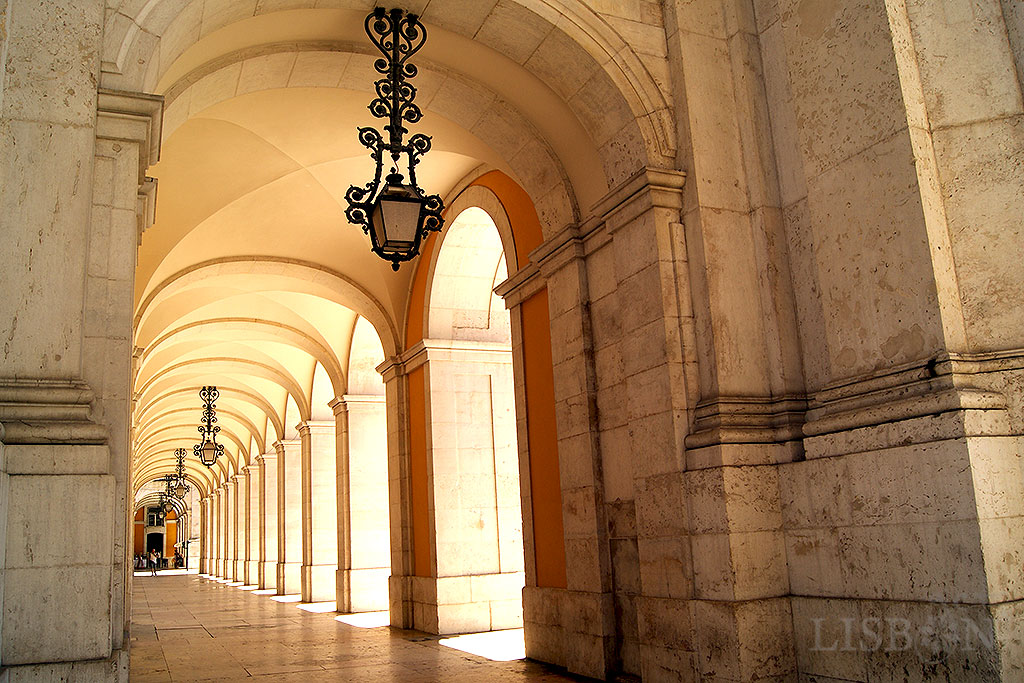 But it is said that the colour of Lisbon is white, pink, yellow and even purple when in June the jacarandas bloom and their flowers form indigo carpets a bit all over the city.

In truth, Lisbon is all of those colours, seeing that the materials used in constructions are mostly white calcareous stones that reflect not only light but also the colours around them. Luminous and warm colours, predominantly pink and yellow for the façades and red for the roof tiles of buildings that conjugated create a light, but warmer and inviting tone.

However, when it comes to construction materials we can't leave out two elements, which on its own are already differentiating and emblematic in this city and that contribute a lot to the magic of Lisbon's light.

We're referring to the Portuguese pavement and tiles.

The pavement, born here in the 19th century, is today not only a symbol of the city but also of the entire country. It is predominantly white, and thus, it is too responsible for the reflection of light.

Moreover, the tiles, a decorative element introduced with the Arab presence, have contributed for centuries with their colour and glow to enrich the inside, and later the outside of buildings too. The façades covered in tiles that became popular in the 19th century and that have remained until today, create large reflecting shiny surfaces and their relief creates light effects that we can call magic.
Find out more about the Portuguese tilework, a type of national identity art, unique in the world.
Intense sun exposure, a clean and aired out atmosphere, hills turned to a large river, light-coloured materials, white stones and pavements, tiles…

Imagine all these elements together… That's how Lisbon's light is!

If you enjoy particularities and different experiences like we do, we can make a customised itinerary tailored to your tastes. Get in touch with us!
The project getLISBON has been very rewarding and we want to continue revealing the singularities of fascinating Lisbon.
Help us keep this project alive!

By using these links to make your reservations you'll be supporting us. With no extra costs!

• Look up the best hotels on Booking.com and get 15% or more off!
• Looking for a different experience? We can create a customised itinerary based on your interests. Contact us!
• Or if you prefer tours and other activities in various destinations, take a look at GetYourGuide.
• Save time and money with a flexible Lisbon Card!