They really are mysterious marks in the Carmo Ruins' stones! Watch the video we've made for you and it'll certainly surprise you.

The Carmo Ruins are a testimony of several eras. Since the edification of the church in the 14th century, going through the 1755 earthquake and until the current Archeologic Museum, here were present various occupations, intentions, aesthetics and ideologies.
We suggest you read our post Museu da GNR: Memories of the Revolution, a Convent and a Barrack to know more about the Carmo Convent.
Much is known about this building, there is so much to tell and explore. But this fantastic monument continues to hold secrets and reveal reasons for further studies and approaches.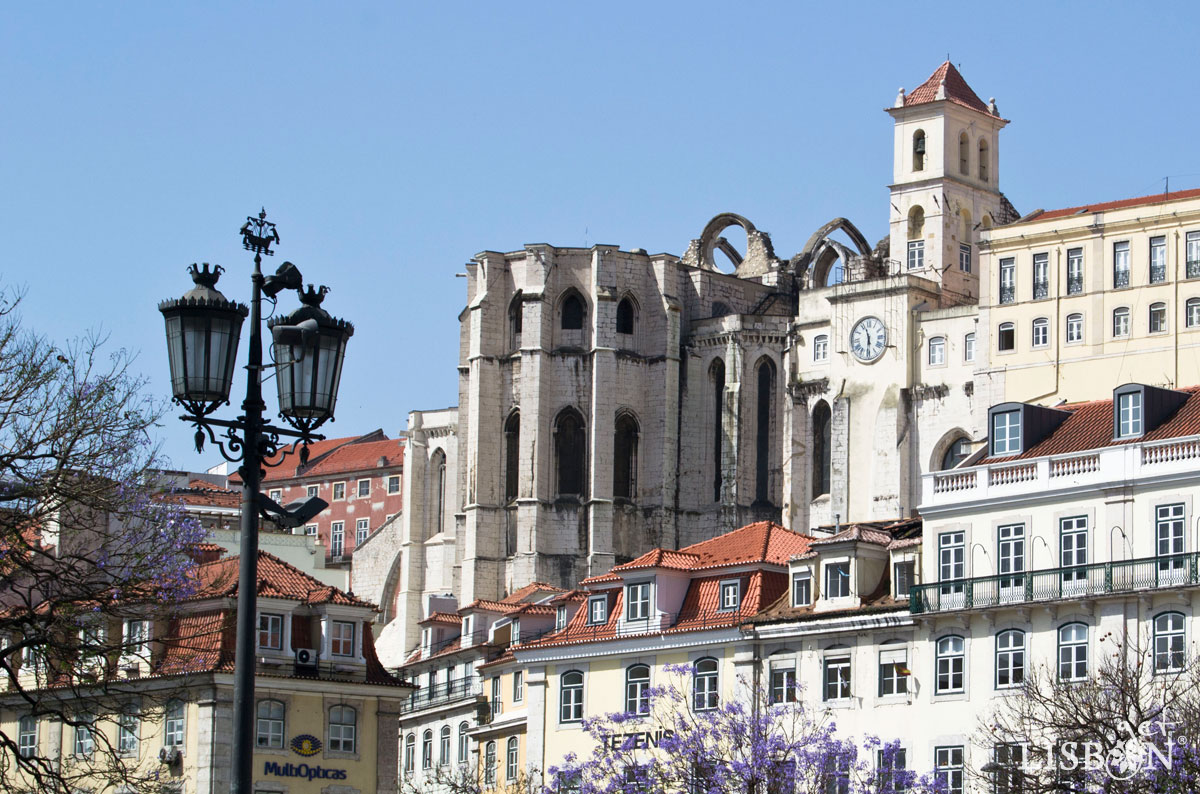 Get to know Lisbon's historic neighbourhoods in a guided tour and discover unmissable places of this magnificent city.
The Carmo Terraces
The intervention completed in 2015, which corresponds to the last phase of the Chiado recovery plan of the architect Siza Vieira, brought novelties along. Its objective was to unclog the back of the building in order to offer the city a new rehabilitated space, the Carmo Terraces.
Thus, the lower part of the apses, that right after its construction were covered to better consolidate the foundations, were cleaned. It was known that this place corresponded to an old road that linked Largo do Carmo to Rossio, the Caracol do Carmo (a zigzag path), long interrupted and abandoned.
After the consolidation of the foundations, it was possible to remove all the rubble that remained here for centuries and discover numerous artefacts and structures. These, after being analysed, will tell many other stories.
It is already known that in this area there was a hospital connected to the Carmo Convent, a burial zone and a garden, all of these in different periods.
Today, the space consists of a large terrace in three levels that is accessed by stairs next to the top of the Santa Justa Lift or by lift from Rua do Carmo. Here you will find a bar terrace, which invites us to relax in comfortable sun loungers.
Let's find out what these mysterious marks in the Carmo Ruins' Stones are.
The Mysterious Marks in the Carmo Ruins' Stones
The walls of Carmo Church are clean and now see the light of day after so many centuries.
If you look carefully you will find many mysterious marks on the stones of the Carmo Ruins. Some of them are still covered with a red pigment, which allows us to deduce that they haven't been subjected to the weather for a long time.
What are they? We'll explain!
Have you ever heard of Glyptography?
Glyptography is the science that studies, classifies and investigates the mason's marks. This is undoubtedly a vast and fascinating subject.
There were marks that were intended to indicate the position of the stones in construction, but these would stop being visible after being placed.
But we're not talking about those marks.
Since classical antiquity, men who carved stones, engraved them with symbolic and allegoric marks. This practice lasted until the Renaissance.
Over time, their meanings have certainly changed. Today, its comprehension constitutes a challenge to archaeologists and historians that are interested in ancient history, giving rise to different theories.
It is generally accepted as common belief that these marks were destined to identify the worker responsible for that stone, in order to determine what each worker had to be paid.
Were you disappointed with this explanation that is so pragmatic and devoid of mystery or symbolism?
This practical sense is most probably true, but doesn't invalidate that behind this functionality there were no other intentions and meanings. What each of these marks represents continues to intrigue those who observe them.
Asking Questions
If these mysterious marks were only meant to facilitate the workers' payments, why weren't they erased from the walls afterwards? And in that case, why were they engraved and not simply painted, which would facilitate its removal?
What is the inherent meaning of each of these symbols?
How and who determined the symbol to be used by each stonemasonry?
While observing them, we've easily found more than 100 different marks, some more figurative, others abstract.
Through its study, will it ever be possible to know how many workers there were in this construction or to reconstitute the work route of a certain stonemasonry?
Many questions can be raised. While we don't have better answers, let's enjoy and observe these mysterious marks in the Carmo Ruins' Stones.
Over time, subjected to climatic conditions these marks will disappear, as it happened with others that existed in higher layers and exposed to the weather for centuries.
We hope that its inevitable disappearance is only due to natural causes and that these marks in these stones aren't destroyed thanks to negligence, ignorance or vandalism.
Visit the Carmo Ruins, discover and see for yourself the mysterious marks in our video.
Have you seen it already? Re-watch it… but this time with other eyes! 😉
The project getLISBON has been very rewarding and we want to continue revealing the singularities of fascinating Lisbon.
Help us keep this project alive!

By using these links to make your reservations you'll be supporting us. With no extra costs!

• Look up the best hotels on Booking.com and get 15% or more off!
• Looking for a different experience? We can create a customised itinerary based on your interests. Contact us!
• Or if you prefer tours and other activities in various destinations, take a look at GetYourGuide.
• Save time and money with a flexible Lisbon Card!