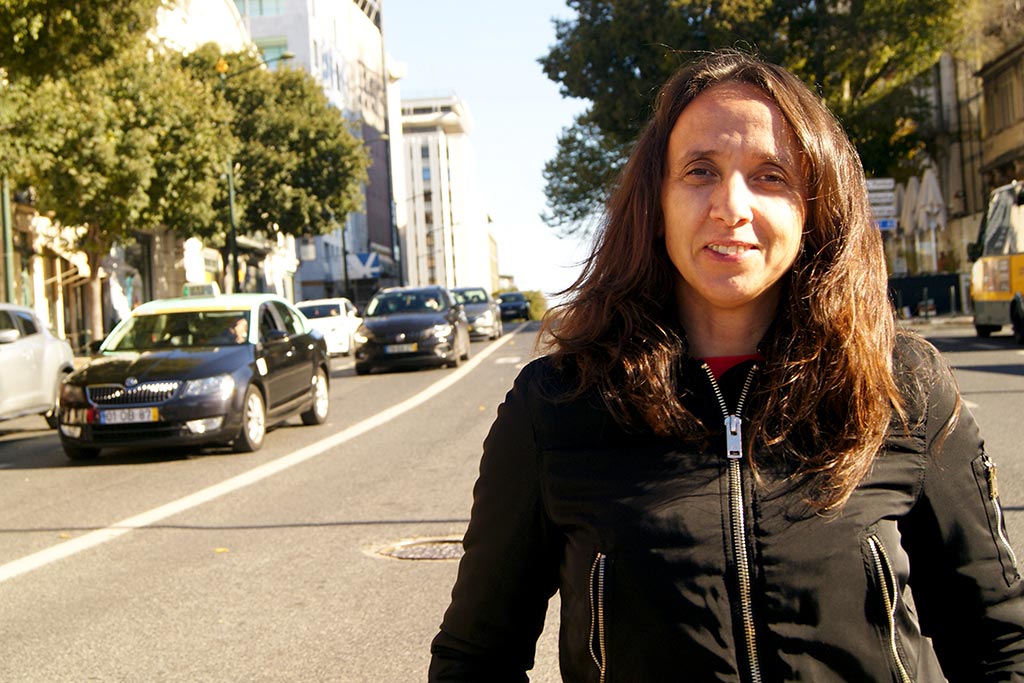 This week we are pleased to have the story of an environmental engineer who, not having been born in Lisbon, lives and works here in the city council, teaching the people of Lisbon who have interest in how to take care of their organic waste. In Lisbon in Us by Luísa Coelho, she tells us about her experience in adapting to the Lisbon city, her particularities and her constant desire to be in touch with the earth.
I'm Luísa Coelho and I came to Lisbon to study at university in 1994, at the age of 18. Contrary to what I expected, adapting to the big city was not easy: my colleagues were all from Lisbon, with established routines and I felt strange, out of place and sad.
I came with the expectation of an academic life that didn't exist. My older sister, with whom I shared a rented room, lifted me up and I ended up being adopted by her friends. Two years later, my younger sister arrived and my structure became more complete. I think I started to feel more comfortable when I started working part-time and studying at night: I felt useful and realised that student workers are obliged to be supportive.
In 2000, when I finished my studies, I needed to do a curricular internship and someone advised me to try applying to the Lisbon City Council. With no alternatives or expectations, I signed up. I did the internship and I loved it, I finished my studies, they invited me to stay as a freelancer and I ended up joining permanently in 2002.
I like public service and I've discovered a large part of the city through my work: places, buildings, neighbourhoods, many people, many events and some misfortunes. In addition to the various tasks I had, I've always worked with cartography and I usually impress my friends because I know more street names than most of the people of Lisbon. And with taxi drives, it's always a sure success!
I know I have a lot of Lisbon to discover, there are so many places I've never been to. How is it possible to live so many years in Lisbon and never have been to the Planetarium or the Museum of Costume? Yes, because the hustle and bustle of everyday life makes me put it off. Once again because of my work, I recently got to know Alfama, Marvila and Santa Clara better and I like to discover the cities within the city, the stairways, the little nooks and crannies, the contrasts, the people of Lisbon with different habits and the remnants of a rurality, luckily. And of course, restaurants: is there a greater pleasure than discovering a good place to eat?
I've lived for several years in São Bento and I love that area. However, not long ago, and on a closer look, I noticed how everything changed. The block was transformed: the traditional commerce of groceries, patisseries, furniture and home textile stores gave way to boulangeries, bistros, lounges, smoothies and noodles. Sometimes it's weird to see the city change like this.
The building where I live has a shared-use yard. I always enjoy it and the times of confinement have shown me more intensely the importance of this small space: it allows me to sunbathe, move the soil, water, sow, and see the plants grow up. Interestingly, my job has led me first to learn and then to teach residents about home composting. I have a composter in the backyard and I've already managed to mobilise some neighbours to use it. The city is also that: to be in touch with earth.
| | Lisbon in Us by Luísa Coelho |
| --- | --- |
| Mini introduction | Born in São Pedro do Sul in 1976 and has a degree in Environmental Engineering. She describes herself as an observer, Lisbon lover and lover of the "good, beautiful and cheap". She enjoys walking and has recently discovered a huge passion for cats. |
| An inspiring place | Alameda Dom Afonso Henriques on a sunny weekend, with many different people enjoying the same space |
| An unmissable visit | The Relógio Fair – outside the tourist itineraries but where you can feel a real, diverse Lisbon, open to all and the charm of the vegetable stalls |
| Her mouth waters with… | Escondidinho do Charquinho Restaurant in Benfica because it combines good food, excellent service and family |
| A song… | Lisboa que amanhece by Sérgio Godinho, in that duet with Caetano Veloso |
| | |
The project getLISBON has been very rewarding and we want to continue revealing the singularities of fascinating Lisbon.
Help us keep this project alive!

By using these links to make your reservations you'll be supporting us. With no extra costs!

• Look up the best hotels on Booking.com and get 15% or more off!
• Looking for a different experience? We can create a customised itinerary based on your interests. Contact us!
• Or if you prefer tours and other activities in various destinations, take a look at GetYourGuide.
• Save time and money with a flexible Lisbon Card!