In this article we'll share with you our observation of the decorative elements present in the manhole covers of Lisbon. Have you ever noticed them?
Throughout many walks around the city, the patterns of the Portuguese pavement and their curious secrets have been the main reasons we've been closely looking at the pavement everywhere we go.
It was during these contemplations that the manhole covers of Lisbon caught our attention. They made us notice the diversity of shape, size and design of the many types of covers spread across the sidewalks and streets of the city.
Get to know Lisbon's historic neighbourhoods in a guided tour and discover unmissable places of this magnificent city.

Types of Manhole Covers
There's an authentic underground world under our feet that contains thousands of water and sanitation systems, as well as gas pipelines, electricity, telecommunications, traffic lights…
Each of the systems has their own covers where the respective services are usually identified. These have the important function of protecting and sealing the infrastructures installed underground, but they also allow access to them for the purposes of maintenance, inspection or repair.
The sizes and shapes are also diverse: rectangular, round, square and even hexagonal.
And we can also find drains that are usually on the side of the roads, next to the sidewalks, where the water drains on rainy days.
After this brief introduction about the various types of covers, we'll talk about the concept of design and aesthetic sense that exists in these cast iron pieces.
---
---
The Design Present in the Manhole Covers of Lisbon
It's important to mention that the word design can both mean "to designate" and "to draw". Depending on the context, this word can mean: "plan, project, intention, process" or "sketch, model motif, decoration, visual composition, style".
Design is a process that involves all these concepts and others, such as innovation, product functionality or concern for consumer needs.
The manhole covers are urban structures that are usually undervalued or simply ignored by the vast majority. However, they're certainly design pieces.
In addition to complying with a series of technical manufacturing and safety standards, such as, for example, being prepared to withstand the passage of heavy vehicles; they also include innovation such as the incorporation of anti-theft system devices; and also the aesthetic aspect combined with the non-slip function of the decorative patterns; among other aspects.
But it's the diversity of these patterns, its aesthetic side and what is visible to the public that we want to bring to our readers.
The Graphic Design in the Manhole Covers of Lisbon
We found that the manhole covers come from a wide range of sources, domestic and foreign foundries. Each manufacturer presents its designs with distinctive patterns.
The need to develop a non-slip surface stimulates creativity, allowing imagination to run wild, which results in very interesting solutions that deserve our attentive look.
Let's thus see some of the examples we've found.
Simpler patterns, consisting of a grid or one or two geometric elements:
Tampas de Infra-Estruturas de Lisboa – padrão 1
Tampas de Infra-Estruturas de Lisboa – padrão 2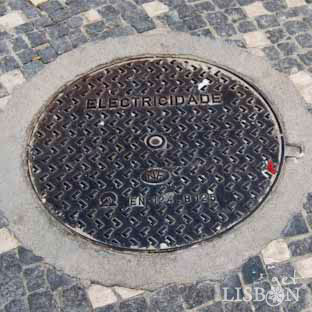 Tampas de Infra-Estruturas de Lisboa – padrão 3
Tampas de Infra-Estruturas de Lisboa – padrão 4
Tampas de Infra-Estruturas de Lisboa – padrão 5
Tampas de Infra-Estruturas de Lisboa – padrão 6
Slightly more complex patterns, made up of a larger number of elements:
Tampas de Infra-Estruturas de Lisboa – padrão 1
Tampas de Infra-Estruturas de Lisboa – padrão 2
Tampas de Infra-Estruturas de Lisboa – padrão 3
Tampas de Infra-Estruturas de Lisboa – padrão 4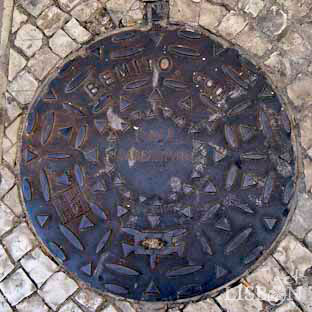 And those designs developed in concentric rings:
Tampas de Infra-Estruturas de Lisboa – padrão 1
Tampas de Infra-Estruturas de Lisboa – padrão 2
Tampas de Infra-Estruturas de Lisboa – padrão 3
Tampas de Infra-Estruturas de Lisboa – padrão 4
Tampas de Infra-Estruturas de Lisboa – padrão 5
Tampas de Infra-Estruturas de Lisboa – padrão 6
We can also observe the symbol of the city of Lisbon or the acronym of the City Council of Lisbon in manhole covers who are under their responsibility.
We also found two examples, which point us to the relevant role of the patterns in the communication of the manufacturer's brand. The first image suggests the use of the letter X of the foundry logo as a standard element. In the second, the inscription 'registered pattern' is read on the top edge of the lid, which means it is an exclusive design of the brand itself.

In Parque das Nações, where the Lisbon World Exposition 98 was held, we can find uniformity in the design of the manhole covers. All of them have the logotype of the event that has definitely marked the urbanism of this area and they're characterised by not having any background pattern.
The images we've seen so far are only a sample of the manhole covers of Lisbon that surely have many more diverse patterns that are still to be discovered and admired.
Creative Projects Related with Manhole Covers
We already knew that our collector friend Alexis Passechnikoff shares our interest in manhole covers. But during our search we stumbled across projects, very distinct from each other, that reveal a special appreciation for these urban structures, which are mostly ignored.
Fluxo Exhibition
In 2017 and 2021 two editions of the Photography Exhibition entitled Fluxo by the Chilean photographer Roberto Santandreu were held. The first edition took place in the city of Almada and the second in the National Fine Arts Society in Lisbon.
In these exhibitions, this photographer, residing in Lisbon, showed his images of these objects that, in his words, "hide the intolerable and the ugly useful". These are manhole covers that he's been collecting, not only in Portugal but also on trips he takes to different countries.
Raubdruckerin: Female Pirate Printer
This creative international project was born in Portugal in 2006.
At the time Emma-France Raff lived in Alentejo with her father, the painter Johannes Kohlruscho. Together they came up with the idea of reproducing patterns of manhole covers through stamping. The first experience was made on a road leading to Lisbon.
After having returned to Berlin, Emma-France put the project Raubdruckerin into action.
Today, the brand has several clothing products and others, with patterned prints and graphic elements made from urban structures, among them the manhole covers of several european cities.
Manhoru
In a black and white publication, edited by Editions FP&CF, surprising manhole covers from different Japanese cities are compiled.
These are true business cards, where the characteristics, symbols or traditions of each locality are represented, which is an excellent way to enhance this urban structure.
Having reached the end of this article we hope to have captured your interest in manhole covers, urban structures that are so patent in our day-to-day life.
Curious facts:
In the Botanical Garden of Lisbon and in Estrela Garden you can find examples of old metal drains that are authentic art pieces that must be preserved.
You can also take up the challenge of finding this special cover with the symbol of Lisbon when you pass by the Assembly of the Republic. 🙂
Note: Original article published on 17 March 2021.
The project getLISBON has been very rewarding and we want to continue revealing the singularities of fascinating Lisbon.
Help us keep this project alive!

By using these links to make your reservations you'll be supporting us. With no extra costs!

• Look up the best hotels on Booking.com and get 15% or more off!
• Looking for a different experience? We can create a customised itinerary based on your interests. Contact us!
• Or if you prefer tours and other activities in various destinations, take a look at GetYourGuide.
• Save time and money with a flexible Lisbon Card!