In the 5 relief ceramic panels we've selected we can see bold and/or contrasting colours and a plasticity that results from the combination of sculpture and classic tilework.

Portuguese tilework has stood out worldwide for centuries due to its monumentality, scenographic sense and chromatic characteristics. But also due to the crossing of various arts and the originality in its application that establishes a dialogue between the tiles and the space itself.

A traditional tile consists of a squared flat ceramic slab, but we can't forget about the relief Aresta or Corda-Seca tiles from the 16th century. These tiles' ceramic relief prevented the colours from getting mixed together.

In the 19th century very interesting relief tiles were also in vogue. They generally presented colourful or monochrome floral motifs and the multifaceted artist Rafael Bordalo Pinheiro is their most highlighted author.

The 20th century was marked by innovative modernism, creating aesthetic ruptures in the arts. In terms of ceramics Querubim Lapa was one of the most relevant artists of this period, developing important pieces already covered in 7 Ceramic Works by Querubim Lapa in Lisbon.

When it comes to the relief ceramic panels that we share with you today, they belong to this latter era and to relevant Portuguese contemporary artists.

But from the 5 panels, there's one whose author is unknown.

Will you be able to help us?…
The Selected Relief Ceramic Panels
These panels were produced between 1960 and 1990 and are located in different areas of Lisbon.
Get to know Lisbon's historic neighbourhoods in a guided tour and discover unmissable places of this magnificent city.
Panorâmico de Monsanto Viewpoint (1965)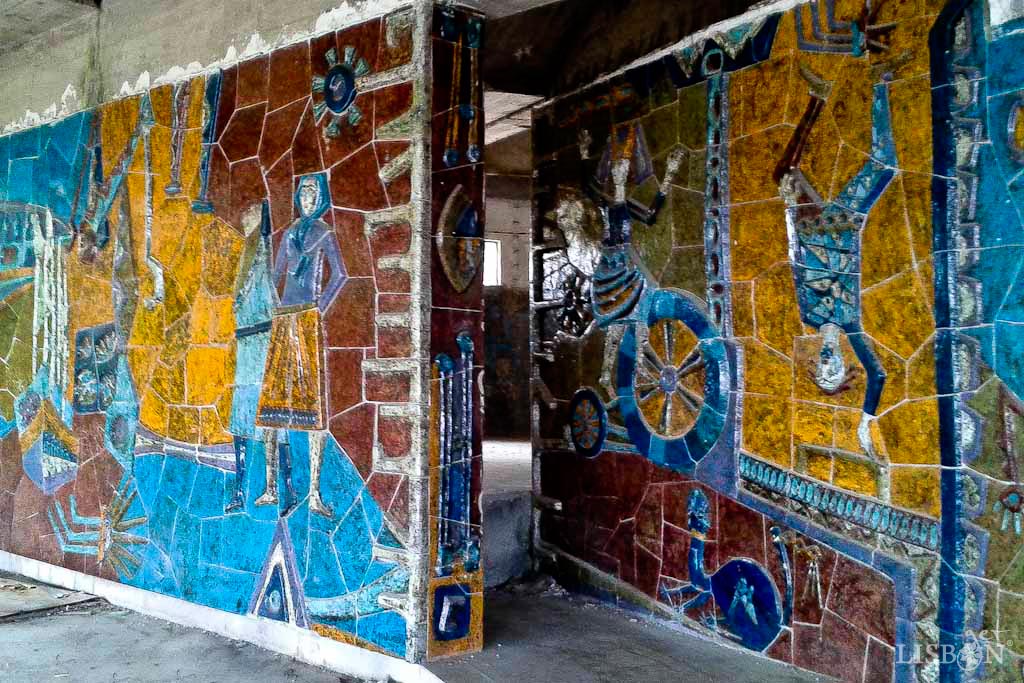 The first of the 5 relief ceramic panels is by Manuela Madureira (1930).

It can be seen in the Panorâmico de Monsanto Viewpoint, a space that was recently reopened to the public after a long period of abandonment.

The building, inaugurated in 1968, was designed as Panoramic Restaurant and even was one of the most luxurious in the capital. Despite its state of decay, today it is an art and music event and festival venue with a privileged view of almost 360º over Lisbon.

Inside there's a panel with an area of over 60 square metres, formed by irregular ceramic tiles. In an alternation of two-dimensional elements and reliefs, abstract shapes, figures and scenes related to the city of Lisbon are represented, such as boats, closely linked to the Tagus river. The colours are predominantly blue tones contrasting with ochre, brown and orange.

Manuela Madureira studied ceramic, sculpture, painting, drawing and engraving at the Faculty of Fine Art of Lisbon. She's participated in various exhibitions and won countless awards. Her vast outstanding public work is spread across the country.
Caleidoscópio Building, in Campo Grande Garden (1972)
This panel is by the ceramist Maria Emília Silva Araújo (1940). You can find it in the façade of Caleidoscópio Building (kaleidoscope building) and it is part of one of the artworks of our Campo Grande Garden Public Art Route that we've created for you.

The Caleidoscópio Building, built in 1971, was initially a tourism reception point. Later it was transformed into a cinema and shopping centre and in 2016, it was converted into a modern academic centre as a result of a protocol with the University of Lisbon.

Maria Emília Silva Araújo was born in Matosinhos and studied ceramics in Soares dos Reis Decorative Arts School in Porto. Posteriorly she continued her studies in António Arroio Secondary Arts School in Lisbon, where she was a student of the distinguished ceramist Querubim Lapa.

She worked with masters in Viúva Lamego Ceramic Factory, where this ceramic panel was produced.

The entire panel presents great dynamism: figures in movement; a vibrant chromatic contrast of warm and cool colours; reliefs that originate fragments of colour and shape, a visual effect comparable to the one of a kaleidoscope.
Liberdade Avenue (1985)
In the central axis Baixa/Liberdade of Lisbon, more precisely in the no. 144-146 of Liberdade Avenue, there is a panel of the ceramist Teresa Cortez.

Born in Leiria, she studied in António Arroio Secondary Arts School in Lisbon, interned and collaborated with the master Querubim Lapa in Viúva Lamego Ceramic Factory. She developed an outstanding career, being present in countless individual and collective exhibitions and winning awards namely in the field of ceramic works integrated in architecture projects.

This relief ceramic panel is one of her highlighted pieces of art. In 1985 she was awarded the 1st Municipal Award of Tilework promoted by the City Council of Lisbon.

It was produced in Viúva Lamego Ceramic Factory and has 6 metres of height and 4 of width. In it are represented two large calla lilies, the flower that symbolises peace and tranquility.
Infante Santo Avenue (1994)
This is a ceramic panel of the plastic artist Eduardo Nery (1938-2013), created within the scope of Lisboa 94, European Capital of Culture and produced in Secla Ceramics under the coordination of Aleluia Factory.

It is located in Infante Santo Avenue, where there are four other tile panels by Maria Keil, Carlos Botelho, Alice Jorge and Júlio Pomar, and by Sá Nogueira.

The plastic approach of Eduardo Nery's relief panel is different from all others mentioned in this article.

The use of ceramic slabs of three orange tones in a wedge shape allows different ways of placing them. Together with the reflection of light and the position of the observer, it creates unique visual effects.

Eduardo Nery, a multifaceted artist and painting graduate at Faculty of Fine Art of Lisbon, has extraordinary pieces in many artistic areas such as: painting, photography, stained glass, ceramics, tapestry and even Portuguese pavement… We can find his countless public art pieces both in Portugal and abroad.
Alvalade Square
getLISBON's mission is also to share with readers anonymous pieces that many times go unnoticed.

We don't know the author nor the date of this ceramic panel located in the no. 4 of Alvalade Square, next to the entrance of a bank agency.

It is, however, integrated in a building from the 1960s projected by Ruy Jervis d'Athouguia (1917-2006), one of the architects responsible for the headquarters building of Calouste Gulbenkian Foundation, an internationally well-known work.

The wavy graphism that we observe is created not only by the lines and colours, but also by the ceramic slabs themselves. These were cut to form curves and counter-curves and are perpendicular to the composition that appears to be an organic element in movement.


In addition to these relief ceramic panels, Lisbon is replete with many other ceramic pieces from different eras, aesthetics and approaches that we'll most definitely continue to divulge.
The project getLISBON has been very rewarding and we want to continue revealing the singularities of fascinating Lisbon.
Help us keep this project alive!

By using these links to make your reservations you'll be supporting us. With no extra costs!

• Look up the best hotels on Booking.com and get 15% or more off!
• Looking for a different experience? We can create a customised itinerary based on your interests. Contact us!
• Or if you prefer tours and other activities in various destinations, take a look at GetYourGuide.
• Save time and money with a flexible Lisbon Card!