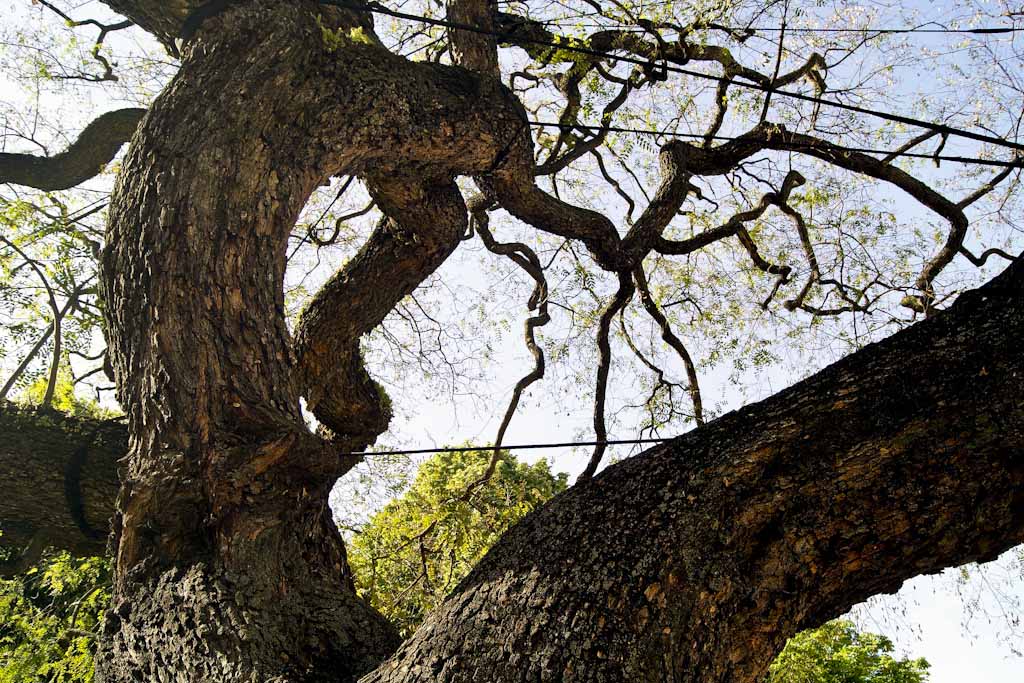 Did you know that classified trees are considered live monuments? And that you can find a significant number of public interest trees throughout the city of Lisbon?
Trees are everywhere in streets, gardens and parks of the city. Some more leafy and others more discreet, but each one of them contributes to improving air quality, beautifying spaces or providing a much needed shade on the hottest summer days.
They also signal the change of the seasons, with the fall of the leaves or their chromatic variation, the flowering and finally the fruiting.

The Classification of the Public Interest Groves
The ICNF – Institute for Nature Conservation and Forestry is the competent body for the attribution of the Public Interest Tree status.
On their website the criteria for this classification can be found: "Isolated specimens or groves that, due to their representativeness, rarity, size, age, history, cultural significance or landscape setting, can be considered of relevant public interest and their careful conservation is recommended."
However, public or private entities, such as autarchies, owners, non-governmental organisations linked to the environment or even ordinary citizens can submit proposals for evaluation by the ICNF.
Once the status is assigned, the grove is subject to a set of protection rules, namely the allocation of a security area around it or the prohibition of alterations that may damage or change its characteristic appearance. Owners are responsible for the maintenance and conservation of the classified specimens.
The ICNF assigns, but also has the power to remove the classification of a grove, when it no longer has the characteristics that distinguished it, or if it has been given another type of special protection.
Classification is a way of involving society in general for the preservation, protection, valorisation and to inventory this living heritage.
Recently, the reported study by researcher Paulo Reis Mourão, co-authored with Vítor Martinho, reveals that most of the trees classified as national heritage are concentrated in the district of Lisbon, instead of areas with greater density and forest diversity.
The study points out that the reason for this fact is not only the existence of more interested entities and informed citizens about the importance of valuing these trees, but it's also their initiatives in submitting proposals to the ICNF for their classification.
Therefore, we can all take an active role in the recognition of these trees and contribute to the preservation of a heritage of important ecological, landscape, cultural and historical value.
9 Public Interest Trees in Lisbon
There are countless public interest trees in Lisbon, especially in forest parks and botanical gardens.
Because we can't mention all of them, we've selected nine trees that can be found in streets, squares or small gardens of Lisbon. You've probably seen them before but never noticed that they're classified trees, as most of them lack identification.
To get to know the nine different species of public interest trees selected by us, we'll be going to places frequented by tourists and visitors and to areas outside the centre.
The Olive – Santo Amaro Chapel
In the garden behind the Chapel of Santo Amaro we find not one but four Olea europaea L. var. Europaea, with about 6m of height and perimeters that vary between 2 and 3m.
According to available information, these olive trees are about 460 years old, which is revealed by their already twisted and hollow trunks, very characteristic of this species.
Its existence shares the history of this sacred place, with the chapel founded in 1542, a gem of the 16th century architecture which venerates the saint who dedicated himself to the weakest and most unfortunate.
Olive trees are widely cultivated in Portugal, with particular relevance for the production of olive oil from its fruit, the olives.
It adapts to all types of soil, tolerates heat well and can live more than two thousand years. It blooms in spring and its fruit ripens in autumn.
Kapok – Rua dos Jerónimos
How many times have we been to Rua dos Jerónimos to walk around the gardens in the area or to simply satisfy our craving for pastéis de Belém (egg custard tart)?
It is not uncommon for us to look at the kapok tree implanted next to the east wall of the Jerónimos Monastery, without knowing that it's a classified tree, over 90 years old.
The beauty of the Ceiba crispiflora H.B.& K. is evident in Autumn, during the flowering season. Pink flowers mark the top of this tree to then give turn to the green capsule fruits. These, when ripened, burst and release seeds wrapped in fine white fibers, such as cotton.
Another peculiarity of this species that originates in Brazil and Argentina is that it develops pyramidal spines of considerable dimension along the trunk, but that start to fall after a certain age.
Ombú – Largo do Limoeiro
The former Limoeiro Square, currently a street that connects Downtown Lisbon to the Portas do Sol Viewpoint, is a must-visit place for tourists and is part of the famous route of tram 28.
This is also a place of many stories. A Royal Palace, a church and even a prison existed here. Today, it is still possible to visit the Patio where the last hangman of Portugal lived.
Next to the wall of the then Limoeiro Prison, current Centre for Judicial Studies, there's a Phytolacca dioica L. that replaced the lemon tree from where this square had drawn its name. It is about 13m high, 17m in base perimeter and 100 years old.
This species is originally from South America, has a very fast growth and the flowering season occurs between April and June.
Cedar-of-Buçaco – Príncipe Real Garden
This emblematic tree, located in Príncipe Real Garden, is highlighted by its peculiar shape and grandeur.
It is around 150 years old and the star of one of the most beautiful neighborhood gardens in the city, built in 1863.
Scientifically called Cupressus lusitanica Miller, it is also commonly known as cedar-of-Goa or cedar-of-Buçaco. This last designation is widely used in Portugal due to the magnificent examples in Mata do Bussaco (Bussaco National Forest), situated in the central region of the country.
This is a species from the mountains of Mexico, Guatemala and Costa Rica. It does best in a subtropical climate with mild, humid winters and mild heat in the remaining seasons. Its wood is widely used, including in the manufacture of ornamental pieces.
Moreton Bay Fig – Largo Hintze Ribeiro
In this square, which is uninviting to stay due to the occupation of cars, there's a surprising tree group classified as of public interest, with more than a century of existence.
Ficus macrophylla Desf.ex Pers, also known as Australian banyan, from the east coast of Australia, is widely used as an ornamental tree in public spaces.
The nine large trees of the Hintze Ribeiro Square create shade over the entire area. On the hottest summer days, garden benches would make a difference to be able to enjoy the coolness and appreciate the urban work of art on the side of the Cape Verde Cultural Centre by Frederico Draw and Ergo Bandits.
Tipa – Praça de São Bento
Next to the Assembly of the Republic, in São Bento Square, we can observe the centenarian Tipuana tipo (Benth.) Kuntze.
The moment it was photographed, it showed a less dense foliage that exposed its immense twisted branches, forming an authentic artistic composition, as if a painting by the American painter, abstract expressionist, Jackson Pollok.
This species comes from South America, more precisely from the North of Argentina and Bolivia. Between late winter and spring the orange flowering with a brownish red spot at the base occurs.
Ginkgo – Praça Paiva Couceiro
We're now going to meet another centenarian tree, this time a Ginkgo biloba L., located in Paiva Couceiro Square, in the civil Parish of Penha de França.
This species, originally from China, has more than 200 million years of existence. Contemporary of dinosaurs it is considered the oldest in the plant kingdom.
In addition to this particularity, it was the only species that was reborn after the devastation of the atomic bomb in Hiroshima, Japan. Hence it was adopted as a symbol of peace and longevity.
This deciduous tree loses its leaves in winter, but before that it gains a bright yellow colour that marks the landscape, colouring it.
Cockspur Coral Tree – Luz Garden
Let's continue to Luz Square in Carnide, where the annual Feira da Luz (Luz Fair) is held. This originally rural fair is one of the most emblematic in Lisbon and is part of the Our Lady of Light Festivities.
This space is surrounded by historic buildings, from which we highlight Our Lady of Light Church from where the procession starts every September.
At the centre of the Square there is Teixeira Rebelo Garden, mostly known as Luz Garden, where we can observe, among many different species of trees, two classified specimens of Erythrina crista-galli L., which are about 100 years old.
Given the lack of information plaques it's not easy to identify them if we don't have an in-depth knowledge. They're both on the south side of the garden and are approximately 12 and 15 metres high.
This species, contrary to what its common name indicates, doesn't originate in India, but rather in South America. It was baptised by the Portuguese when they arrived in Brazil, thinking that it was India.
Its flowering season is in June when this tree becomes loaded with bright red flowers that resemble rooster crests.
European Nettle Tree – Av. de Berlim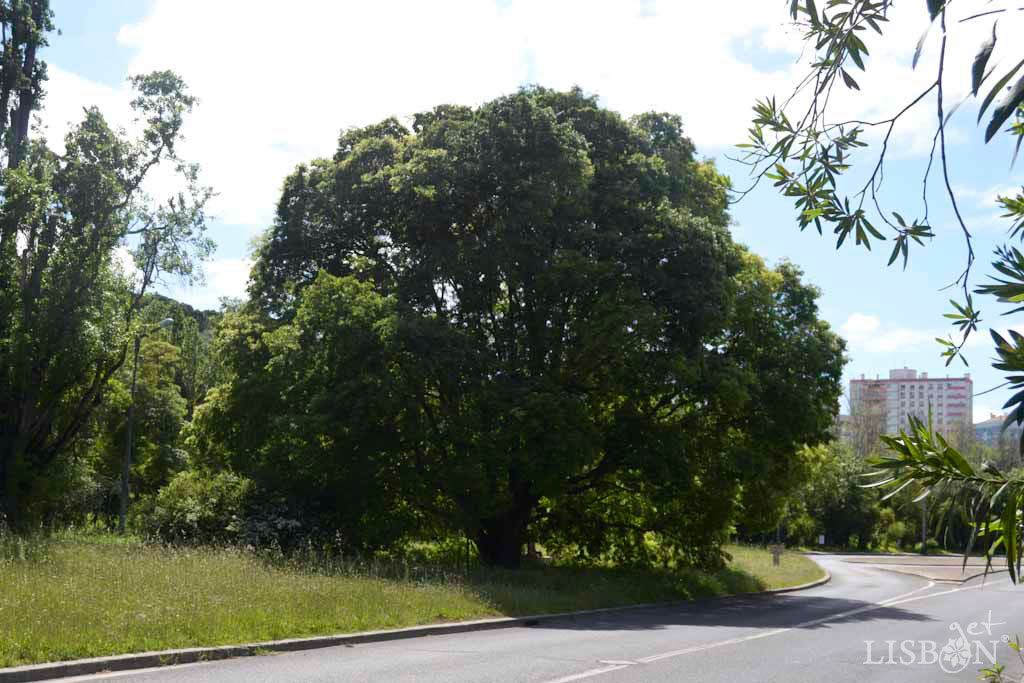 In the east zone of Lisbon, at the confluence of Berlim Avenue and Dr. Francisco Luís Gomes Avenue, next to the sculpture Homem Sucata (Scrap Man) of 1993 by Lúcio Bittencourt, there is a Celtis australis L.
This example of an european nettle tree is distinguished by its symmetrical silhouette and the size of the canopy. It is about 16m tall, 100 years old and it is also a survivor of the grove of the farms that existed in this area of Lisbon, before its urbanisation in the 40s and 50s.
Celtis australis is a widely used species for ornaments in gardens and public roads and its wood, when cut into thin strips can be used in basketry. The flowering season is in Spring and the fruiting season between late Summer and Autumn.

We've reached the end of this stroll around the city in which the public interest trees are the star. We hope that you've become aware of the importance of valuing this live patrimony that contributes so much to the well-being of everyone.
The project getLISBON has been very rewarding and we want to continue revealing the singularities of fascinating Lisbon.
Help us keep this project alive!

By using these links to make your reservations you'll be supporting us. With no extra costs!

• Look up the best hotels on Booking.com and get 15% or more off!
• Looking for a different experience? We can create a customised itinerary based on your interests. Contact us!
• Or if you prefer tours and other activities in various destinations, take a look at GetYourGuide.
• Save time and money with a flexible Lisbon Card!